About Greenhorns
Greenhorns works to create a welcoming and hospitable culture for new entrants in sustainable agriculture. We have made films, radio, guidebooks, parties+trainings, almanacs, anthologies, song collections, exhibits, mixers, art-stunts and trans-media collaboratives that defy classification.
We are a community powered studio dedicated to grassroots media, cultural programming and land repair for the benefit of the human and non-human worlds.
Our various programs and projects address the practical and social concerns of those in their first years farming, we emphasize restorative land-practices, skill-building, networking and dialogue.
Get the latest on news, events, & opportunities from the Greenhorns:
Sign up for our mailing list here! 
---
Greenhorns Summer Schedule 2020
Once again, Greenhorns presents a full summer schedule of educational and intersectional workshops and summer camp programming.  Inspired by the present, historic and potential natural resource economies of Downeast Maine and rural New England, we bring you teachers on topics that rhyme with the territory.  We invite you to plan a trip Downeast, visit the wonderful state parks and rivers, see the whales and the eagles, the historic civic architecture, the old canneries, the wide abundant inter-tidal and incredible avian and aquatic abundance. You'll be glad to know there is no traffic beyond Ellsworth.
Greenhorns welcome short term work-traders to help out in the summer months. You can email us office@greenhorns.org with a resume/ letter of interest. We offer room and board for 4 hours focused work per day on various farm tasks, chores, library tasks, restoration of our buildings, clearing of trails, painting, weeding, harvesting/ processing herbs + seaweed etc.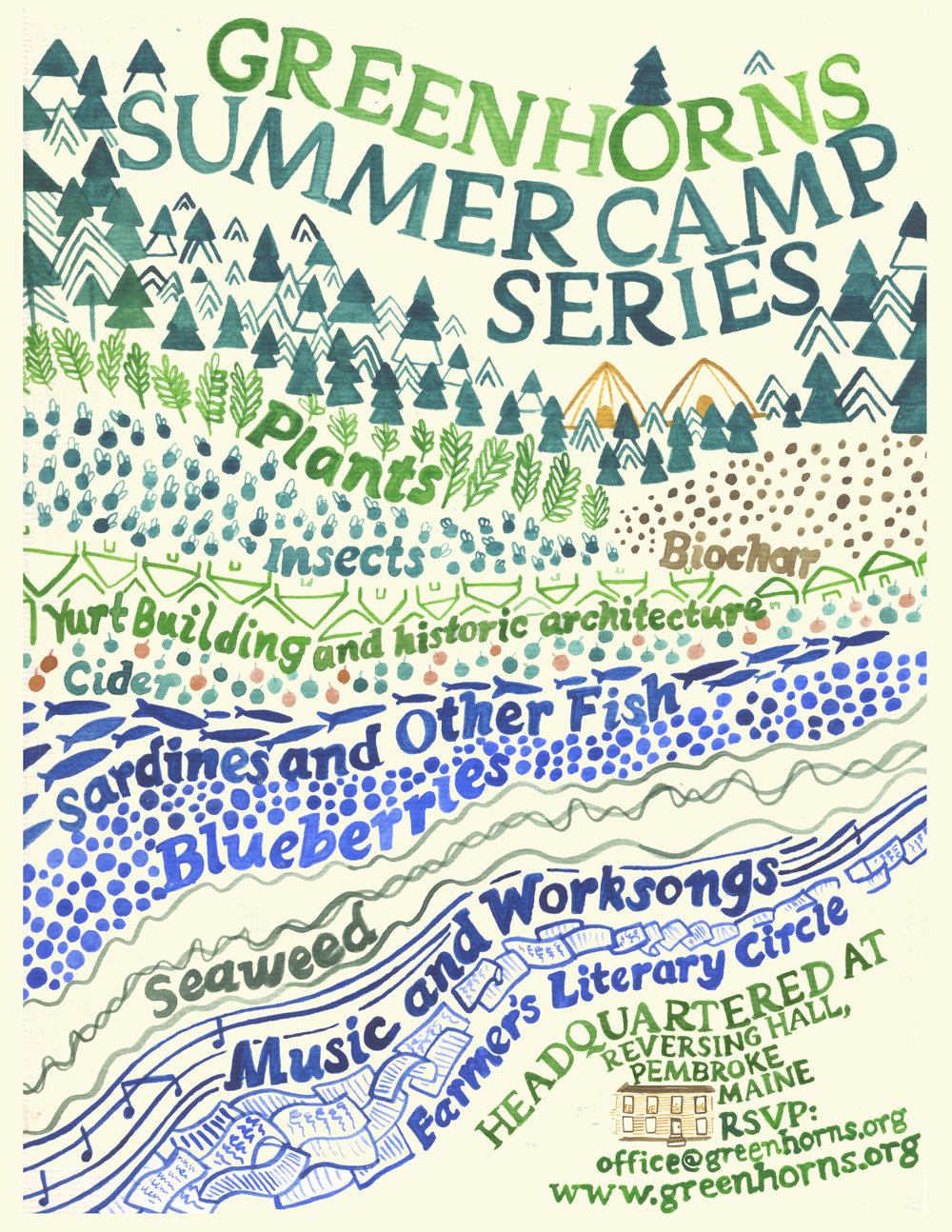 ---
Serve Your Country Food
Looking for a place to start?  
Visit the the SYCF map for resources organized by region.
Arms strong and hands calloused, eyes open to the beauty of every morning. Our spirits are prepared for the long row still to hoe, our hearts full with the support of family and community. Let us unite, young farmers! Let us fight for the right to farmable land! To the pursuit of an equitable marketplace, and for recognition from society. We are here, we are indispensable, we are a cornerstone of the future of food. Let us welcome many new entrants into agriculture, striving to share our lessons, seeds and stories with generations to come. Now is the time for action.
---
Upcoming Events