The Greenhorns campus is a network of farms, land, and restored building sites spread along the Pennamaquan River and Leighton Point in the coastal town of Pembroke, Maine.
Greenhorns was founded in 2008 and moved to our new rural headquarters in 2018. Our campus provides space for living, working, farming, cooking, and exploring nature, all while collaborating digitally with our national network.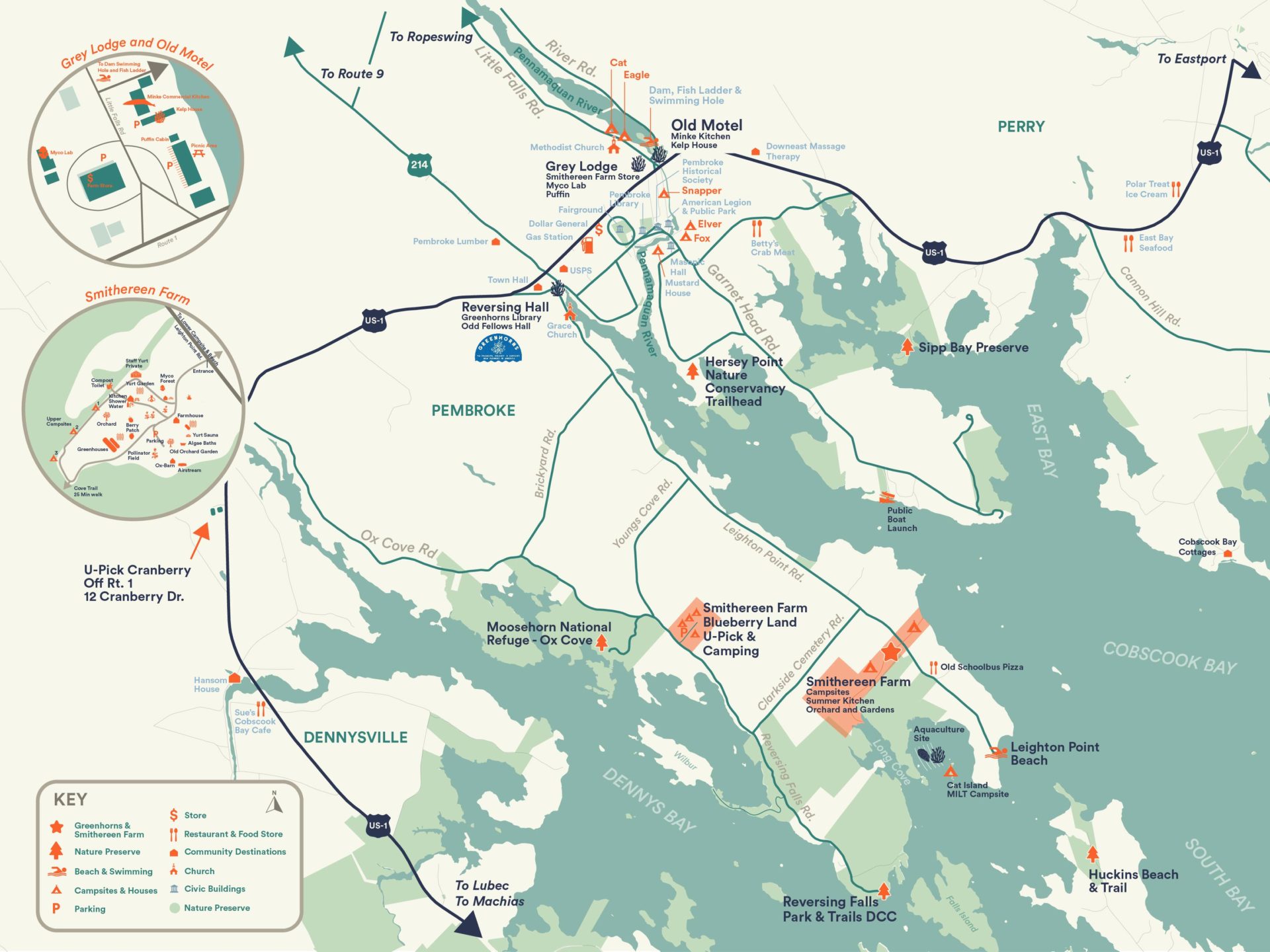 We partner with our sister business, Smithereen Farm, which runs the farm business and agricultural operations — feeding our residents and visitors from a growing local, regional, and international community.
New in 2022 is the Farm Shop at Grey Lodge, located in the former miners lodge and Crossroads Motel at Little Falls Road on Route 1.

Our commercial cooking facility, Minke Kitchen, is across the street and the former site of the Pembroke Ironworks. This facility is also run by Smithereen Farm, where they process MOFGA certified, value-added products, made from seaweed, herbs, mushrooms, blueberries, cranberries, apple cider vinegar, and more. You can also shop online.
We host summer workshops and family camping at the farm at Reversing Hall and in our surrounding landscape. We also offer an Artist in Residency program and house an extensive Agrarian Library at this site.
Our Campus Includes:
Pennamaquan Site | Two 1800's historic houses looking out onto the river; heated wood shop; Mushroom Lab; Large Barn; 1 mile of river frontage; trails network; massive spring run of Alewives
Reversing Hall | Odd Fellows Hall that contains Agrarian Library, performance and studio space, art materials and creative resources
Smithereen Farm Home Site | Organic farm and gardens with U-Pick strawberries, blueberries, and cane fruit; 150 acres forest and trails; back cove; timber frame outdoor kitchen; herb and seaweed drying facilities; smokehouse; composting toilet; hot shower; tipis; campsites; airstream; oxbarn; toolshed; parking
Large woodlands and trails networks
Two Aquaculture lease sites | Places to research plastic alternatives, new bio-materials design, and other aquatic experiments; Kayaks and small boats are available.
Certified organic cranberry land right on Route 1, open for U Pick in 2022. 

Certified organic blueberry land, also a U Pick, with 4 of Haystack joinery's tri-form camp platforms for HIPCAMPers.

Whats next? We're working on fixing up three small historic (derelict) houses along the Pennamaquan River. Also a mile long river trail in collaboration with Downeast Salmon Federation and 3 ' forest yurts' for our art-residency program. 

 

With more people we can take more on, like the re-vegetation of a gravel pit, like a native plant nursery, and dancing a jig of joy when the Canadian silver miners leave town forever.