Maine Sail Freight
We have multiple sail freight projects that we've organized or supported, including Maine Sail Freight, Vermont Sail Freight, and Caribbean Sail Freight. Maine Sail Freight is a project of the Greenhorns and is part of our work to support farmers and a diversity of collaborators with a commitment to the rebuilding of rural economies through sustainable agriculture, small business entrepreneurship, and teamwork.
Press & Media: 
Thanks to partners Crown of Maine Organic Cooperative, MOFGA and Maine Grain Alliance for their support. 
---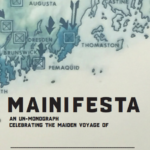 Read our Mainifesta! 
Mainifesta: an un-monograph celebrating the maiden voyage of Maine Sail Freight  [ pdf ]
This is a story about a group of young farmers staging a pageant-like protest about the terms of trade in our agricultural economy, and the nature of transportation and exchange within that model.