Greenhorns, Appleseed Permaculture and Owl + Bear Tree service presents: Trail building theory and practice workshop
June 16, 2018

-

June 17, 2018

$60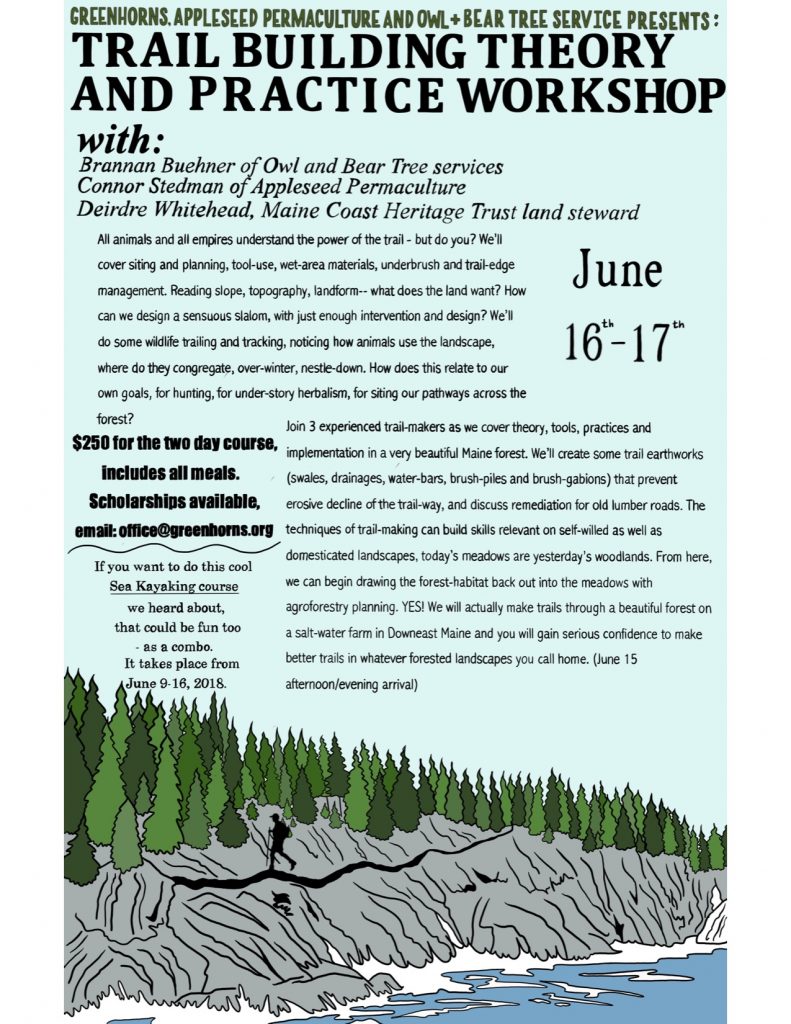 Hosted by:
– Brannan Buehner of Owl and Bear Tree services,
– Connor Stedman of Appleseed Permaculture,
– Deirdre Whitehead, Maine Coast Heritage Trust land steward
All animals and all empires understand the power of the trail – but do you? We'll cover siting and planning, tool-use, wet-area materials, underbrush and trail-edge management. Reading slope, topography, landform– what does the land want? How can we design a sensuous slalom, with just enough intervention and design? We'll do some wildlife trailing and tracking, noticing how animals use the landscape, where do they congregate, over-winter, nestle-down. How does this relate to our own goals, for hunting, for under-story herbalism, for siting our pathways across the forest?
Join 3 experienced trail-makers as we cover theory, tools, practices and implementation in a very beautiful Maine forest. We'll create some trail earthworks (swales, drainages, water-bars, brush-piles and brush-gabions) that prevent erosive decline of the trail-way, and discuss remediation for old lumber roads. The techniques of trail-making can build skills relevant on self-willed as well as domesticated landscapes, today's meadows are yesterday's woodlands. From here, we can begin drawing the forest-habitat back out into the meadows with agroforestry planning. YES! We will actually make trails through a beautiful forest on a salt-water farm in Downeast Maine and you will gain serious confidence to make better trails in whatever forested landscapes you call home. (June 15 afternoon/evening arrival)
Teachers:
Bear & Owl Tree Care is a full service tree care company based in the great state of Maine. We offer expert advice in all aspects of tree health, maintenance, and removal.
Connor Stedman – Agroforestry, Ecology Specialist. Connor is a field ecologist, agroforestry specialist, and educator based in western New England and the Hudson Valley. He holds an M.S. in Ecological Planning from the University of Vermont and is a lead organizer of the internationally recognized Carbon Farming Course. Connor offers consulting and design for multi-productive forest management at AppleSeed Permaculture, including silvopasture, forest understory crops, productive buffers, and wildlife habitat.
Deirdre Whitehead has worked with the land for over 30 years; running a successful landscape design and installation business and currently, as a Regional Land Steward for Maine Coast Heritage Trust. Raised by an organic gardener, she has a deep respect for the land and the inter-relations of the creatures that inhabit it. With a long history of trail building and land management, she is interested in sharing her knowledge about wise and respectful land use. She says, "living in the Passamaquoddy homeland reminds us of the honor and responsibility of treading lightly on this earth".
$25 downeasters/$60 from away for the two day course, includes all meals. Email: office@greenhorns.org