GREENHORNS STAFF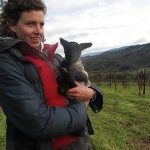 Severine von Tscharner Fleming (Founder, Director)
Severine is a well-known farmer-activist, however having recently just bought her first farm, she is happy to say that she now also a full-time farmer. She is director of Greenhorns, a grassroots organization with the mission to recruit, promote and support the rising generation of new farmers in America. Severine has spent the last seven years gathering, bundling and broadcasting the voices and vision of young agrarians. Greenhorns runs a weekly radio show on Heritage Radio Network and a popular blog. They produce many kinds of media, from documentary films to almanacs, anthologies, mix-tapes, posters, guidebooks and digital maps. They are best known the documentary film, "The Greenhorns" and the raucous young farmer mixers they've thrown in 37 states and 14 grange halls. Severine is co-founder and board secretary of Farm Hack, an online, open-source platform for appropriate and affordable farm tools and technologies , as well as National Young Farmers Coalition which now boasts 23 state and regional coalitions. She serves on the board of the Schumacher Center for New Economics. She co-founded Agrarian Trust, which is focused on land access for the next generation of farmers and permanent protection of affordable organic farmland. Severine attended Pomona College and University of California at Berkeley, where she graduated with a B.S. in Conservation/Agroecology. Email severine (at) greenhorns.org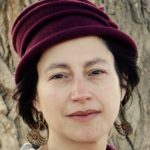 Briana Olson (Editor)
Briana writes, edits, teaches, grows garden collards, hates plastic, loves farmers, and rides bicycles. She is lead editor for the 2019 edition of the New Farmer's Almanac, and lately lives in the desert town of Albuquerque, New Mexico. Email almanac (at) greenhorns.org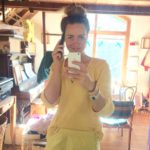 Katie Eberle (Print Designer)
Katie designs and prints all sorts of stuff. She spent years working at a university letterpress (in a basement), currently makes things at a risograph print shop (in a public utility closet), and handles full-on book design and production for presses and independent projects. She is the designer and visual editor of the Greenhorns New Farmer's Almanac 2017 and 2019 editions, which were pieced together over the internet from her cabin on the California coast, north of Point Reyes.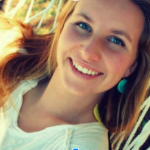 Lydia Lapporte (Researcher)
Lydia studies Environmental Studies and Studio Arts at Whitman College where she wonders about tidepools, the commons, ruins, and what she can make into a book. She has a knack for fairy-house building, and finds delight in her work as a farm educator at Urban Adamah. She followed the seaweed trail all the way to the Greenhorns. Here she archives, manages, and makes digestible their collected resources, as well as engages in collaborative inquiry amongst friends at The California Institute for Community, Art, and Nature in Berkeley. She has experience teaching land-based Jewish pedagogy, editing academic books / anthologies, and directing community programs under the twisting arms of oak and eucalyptus.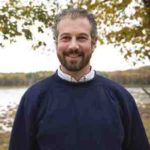 Ian McSweeney (Treasurer)
Ian serves as the Greenhorns' Treasurer and is the Director of Agrarian Trust. Ian's career and his life's work has been focused on the human connection to soil and food. He first worked as a social worker focused on developing and operationalizing outdoor experience based education programs and later sought more direct work with the connections to soil and food in real estate by founding a brokerage and consulting company to focus on prioritizing conservation, agriculture and community within typical land development. He previously served as Executive Director of the Russell Foundation, a private foundation focused on assisting landowners and farmers through customized approaches to farmland ownership, conservation, management and stewardship.
Those wishing to donate to the Greenhorns should contact Ian McSweeney at ian (at) agrariantrust.org.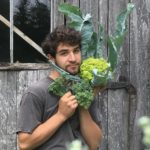 Ian Reid (Development Coordinator)
Ian walked under the towering trellises of his great-grandmother's garden as a kid, and he felt the same sense of wonder while looking for mushrooms in Vermont years later. Today he's a cook, forager, novice carpenter, an occasional farmer, and now a grant writer for the Greenhorns – a task he's learning on the go. Ian studied philosophy and literature at Bennington College (and also ecology, post-colonialism, apartheid, and friendship). Since then, his academic interests have been transformed by his proximity to the land, and the realization that farming is central to solving so many of the earth's ails. Ian came to the Greenhorns to learn, to grow, and to work against the complex of racist, misogynistic, and colonialist influences that have shaped industrial farming in the last century – something he is always working to understand. He now lives on Mount Desert Island in Maine. email ian [at] greenhorns.org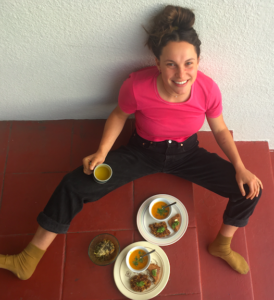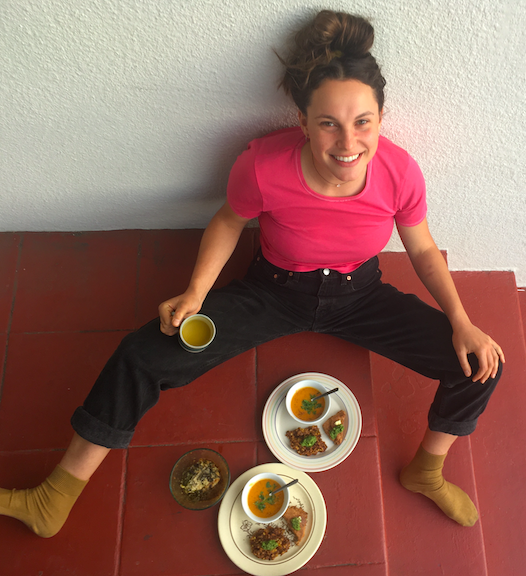 Lucy Zwigard (Logistics Coordinator, Lead Blog Writer)
Lucy Zwigard is a young agroecologist, cook, farmer and musician based in Berkeley, CA. She attended Tufts University and graduated with a B.S. in Biology and a B.A. in French….and found the nexus of her studies while WWOOFing on an agroecological farm in southern France (and every day longs to be back à la champagne!). After Tufts, Lucy partook in the Urban Adamah Fellowship at the non-profit's urban farm in Berkeley, where her passions blossomed at the intersections of mindfulness, Judaism, social justice, and sustainable ag. Before driving cross-country this June to set up shop at Greenhorns HQ in Pembroke, ME, Lucy will wrap up her duties as Farm Manager for Eden Village West, the farm-to-table Jewish summer camp nestled along the Russian River.  She is passionate about food as medicine, herbalism, making music and building relationships of reciprocity with farmers, food systems workers and land stewards of all kinds.  email lucy [at] greenhorns.org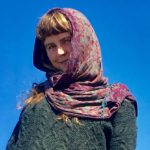 Kate Morgan (Summer Office Coordinator)
Kate Morgan is a young farmer and avid mycologist at Quail Springs Permaculture, an off-grid educational center and farm located in the high desert of Southern California.  She manages a 1.5-acre food forest garden, focusing on land regeneration, food production, and seed-saving for an increasingly hotter and drier climate.  Kate is passionate about land stewardship and regenerative agriculture, rooted in the belief that connecting with our food systems is critical climate stability.
She began pursuing her interest in environmental remediation with research on oil-eating microbes in the ocean while completing her B.S. in Biochemistry and Molecular Biology at UC Santa Barbara. During a semester abroad in Copenhagen, she first encountered the regenerative agricultural movement while volunteering in urban gardens and at local food-sharing organizations. Kate joined Quail Springs Permaculture in 2018 and has since led youth and volunteer groups in the garden, facilitated a mushroom cultivation course and now manages the site's garden full-time.  This summer, she will be relocating to the Greenhorns headquarters in Downeast Maine to coordinate the summer camps and Greenhorns office. Email kate(at)greenhorns.org
---
ACTIVE GREENHORNS
Ethan Bien (Producer, OurLand.tv)
Born in Maine, Ethan arrives at the Greenhorns by way of Russia, Mexico, and the documentary film program at the UC Berkeley Graduate School of Journalism. When he's not working for us, he's a documentary filmmaker and a commercial salmon fisherman.
Brooke Budner (Artist, Official Greenhorns Illustrator – guidebook, website, stickers and materials)
Brooke Budner is an artist, farmer, and organizer. She has been creating visual inspiration, imagery and illustrations for the Greenhorns from its early days as an organization. She is co-founder of Little City Gardens, a 1-acre commercial urban farm in San Francisco and test plot for the economic viability of urban farming. Through the establishment and evolution of Little City Gardens she organized and worked with the city planners of San Francisco to draft and pass The San Francisco Urban Agriculture Zoning Ordinance, as well as State Legislators to pass the California Urban Agriculture Williamson Act. She now lives rurally on Orcas Island, where she grows food, raises a flock of sheep, makes artwork and is building a tiny timber framed house on wheels.
Holli Cedarholm (Greenhorns Radio Producer)
Holli Cederholm's involvement in organic agriculture spans over a decade, and a good chunk of Midcoast Maine. She first apprenticed on a farm while in college and upon completion of a B.A. in Environmental Writing from Unity College in 2007, started homesteading on leased land. She managed her own diversified direct-market farm into 2014: annually cultivating 300+ varieties of heirloom vegetables, herbs, and flowers from open-pollinated seed, while also tending to a pasture-based herd of dairy goats and a flock of laying hens. As the former general manager of a national non-profit dedicated to organic seed growers, she sat in a courtroom with Monsanto lawyers and wrote a peer-reviewed handbook on GMO avoidance strategies for farmers.
Claire Cekander (Greenhorns Guide to Food Logistics)
Claire grew up outside of Chicago and made regular visits to her grandparents' conventional farm in central Illinois where she was introduced to the patterns of rural life. After years of romping through the corn fields, she moved to Ithaca, NY to attend college and found herself surrounded by a community that celebrated the natural bounty of small, sustainable farms. The combination of a degree in environmental science with a focus on sustainable food systems and living in Ithaca has fostered a passion for developing markets that support small farmers. Claire has recently relocated to Portland, ME where she works for a mushroom producer and a local foods market.
Christin Ripley (Mariner and Maker)
Originally from the Gulf Coast of Florida, now living and working in the state of New York as a professional mariner and maker of paper, books, illustrations, knots, carpentered objects, and printed textiles.
---
PAST GREENHORNS COLLABORATORS
Inés Chapela (Deputy Director)
Inés has been with Greenhorns since 2009 and is a central figure to operations and logistics — screening requests, press lists, event planning, and the general chaos of nonprofit administration. She studied Environmental & Urban Studies and Studio Arts at Bard College and has traveled and worked on farms all over the world. She is also a wonderful artist.
Abby Ferla (Blog Manager)
Since she fled her first and only desk job working as a reporter six years ago, Abby has worked on small veggie farms and orchards from Maine to New Mexico, taught cooking in the Santa Fe Public schools, and ridden her bicycle across the country of Bulgaria. She can be found up in the hills and woods of Western Massachusetts where she stewards an old family farm and grows two acres of herbs and medicinal foods.
Laura del Campo (Interim Project Director)
Laura began cooking and growing foods on Vancouver Island while reading for her BA in Environmental Studies at the University of Victoria. For over a decade she has been working on the cusp between field and table – raising food, cooking professionally, and helping farmers to market their wares. Laura helps her mom manage Stonybrook Meadows Farm in Hopewell, New Jersey. She holds an M.B.A. from St. Joseph's University, Philadelphia in one hand and a Permaculture Design Certificate from O.U.R. Ecovillage, Shawnigan Lake, British Columbia, in the other.
Connor Stedman (Leadership Team Facilitator)
Connor is a naturalist, ecological designer, and educator based in the Hudson Valley of New York. He consults and teaches on agroforestry, land stewardship, farm planning, and natural history across the Northeast. Connor is the author of the forthcoming Greenhorns Guide to Agroforestry; his writing has also appeared in Small Farms Quarterly, the Permaculture Activist, the Greenhorns New Farmers Almanac, and on his Renewing the Commons blog. He brings a decade of experience as a wildlife tracker, wilderness educator, and permaculture practitioner into his work, developing farm production systems that store atmospheric carbon and integrate with the wild diversity of the natural world. In addition to the Greenhorns, Connor works with Appleseed Permaculture, Wild Earth, Vermont Wilderness School, and the Resilience Foundation. He holds a B.S. in Eco-Social Design from Gaia University International and an M.S. in Ecological Planning from the University of Vermont.
Audrey Berman (Winter Projects Coordinator, Office Operations Support)
Audrey is a farmer and organizer in the Hudson Valley of NY and has worked with the Greenhorns for the last four winters. She recently co-founded Long Table Harvest, a farm food-rescue program serving those in need of fresh produce living in Columbia County, NY. Audrey also works with the Hudson Valley Young Farmers Coalition and the Hudson Valley CSA Coalition. Prior to starting Long Table Harvest, Audrey spent the last three seasons working on production vegetable farms in the Hudson Valley, learning the ropes at Sisters Hill Farm and then moving onto a management position at Letterbox Farm Collective. In her spare time she's most likely making something useful with her hands.
Eliza Greenman (Biodiversity Director/Blog)
Eliza hails from the Tidewater region of Virginia, where she had a pet pig (who is now 19 years old) and spent her teenage years working at the local corner market selling bait, tackle and ice cream to many a crusty waterman. Years of daily exposure to the lives of watermen and their mantra that "fishing ain't like it used to be" due to a declining fishery set the course for her lifelong journey to learn how to live and farm in balance with nature. Eliza graduated from Sewanee: The University of the South with a B.S in Forestry and later completed MOFGA's Apprenticeship and Journeyperson programs to further her education in heirloom apple orcharding. Today she's an organic orchardist, fruit explorer, nurserywoman, ruralist, story teller, advocate for the preservation of ancient and rare genetics, and director of biodiversity for the Greenhorns!
Charlie Macquarie (Editor, New Farmer's Almanac)
Charlie is an archivist, artist, librarian, and generally adventuresome person with lots to learn about farming and a tiny garden to do it in. Originally from Northern Nevada, he now lives in the Bay Area where he works at UC Berkeley's Bancroft Library and wrangles boxes of ephemera for the Prelinger Library. When he gets time he also seeks out the stranger sites and smaller roads and trails of the American West, which he collects and documents for the Arid States Adventure Library, a project he maintains in collaboration with a T100 pickup.
Megan Shaw Prelinger (reference librarian)
Megan is a writer, library-builder, and artist in San Francisco. She is co-creator of the agriculture-rich Prelinger Library, and is also a seabird rehabilitator and oil spill responder. She has key insights about analog-digital hybridization.
Rick Prelinger (Lost Landscapes Film Project, Rural Edition)
Rick is an archivist, writer and filmmaker, and founder of the Prelinger Archives, a collection of 60,000 advertising, educational, industrial, and amateur films acquired by the Library of Congress in 2002 after 20 years' operation. Rick has partnered with the Internet Archive to make over 6,000 films from Prelinger Archives available online for free viewing, downloading and reuse. Rick operates Prelinger Library, an open-access library collection for artists, activists, historians and futurists, along with his wife Megan. Since 2006, Rick has produced eighteen urban history events, compiled from home movies and historical films of San Francisco, Detroit, Oakland and Los Angeles. These films are screened before a live audience who makes their own soundtrack — identifying places, people and processes asking questions and engaging in spirited discussions. The events evolve as the community contributes more home-movies. We are delighted to be working with Rick on a rural edition of this work– and to bringing it out into Grange halls, Mason halls, Odd Fellows halls, Druid Halls and Town halls in small towns across America.
Narni Summerall (Radio producer)
Narni is a member of the Class of 2017 at Dartmouth College where she is majoring in Geography with a focus on food justice and security. She has worked on the Dartmouth Organic Farm and conducted research with Professor Susanne Freidberg on supply chain sustainability in Northeastern dairy farms. She is a native of Charleston, South Carolina where she has worked for various agricultural projects such as GrowFood Carolina, South Carolina's first food hub. She also has a passion for beekeeping and has volunteered with Bee Cause, which places observation hives into local schools and teaches children about the plight of the honeybee.
Hallie Chen (Serve Your Country Food overhaul) Born and raised by food-centric Taiwanese immigrants in the SF BayArea, Hallie Chen attended the University of California Berkeley where she began unpacking the complex relationship between human beings and the environment. Areas of extended exploration included sustainable agriculture, urban planning, critical urban theory and the visual arts. The Masters in Architecture program at Harvard University's Graduate School of Design is her most recent attempt to influence the social and ecological processes that shape the world we live in. She loves her family, farmers, pizza, swimming, and friends.
Tyler Christie (Video Editor – ourland)Tyler graduated from The Evergreen State College with a degree in Environmental Studies. As a self-taught editor and film producer he is pleased to help small companies and non profits with their video projects. He currently resides in Philadelphia but has worked on farms in many bio-regions and cares deeply about sustainable agriculture. As an editor he works to capture the many textures and aspects of farm life. You can find more of his work on his Vimeo page.
Anne Dailey (blog manager)
Anne Dailey has settled down in central Maine, where she spends summers growing cut flowers for farmers' markets and the rest of the year teaching High School English. She is reveling in the process of finding new ways to combine agriculture and public education, and is currently dreaming up an Ag Lit course. She blogs (occasionally) at poundsweet.net and has been managing the irresistible fleet of bicycles since 2008.
Molly Danielsson (Grange Future artwork and graphic design for Mixtape & Record)
Molly directs Recode, a nonprofit dedicated to legalizing sustainable building practices for the do it yourself builder/designer. She is a designer, researcher, and illustrator seeking to help people understand the science of sanitation to learn the part they play in the cycle of life. Molly also creates visuals & explanations for organizations including Hot Winter Hot Sauce, Letterbox Farm Collective, People's Food Coop, Public Laboratory, Medical Reserve Corp, and USA Today. Molly's work has been featured in MIT's Design Issues, Center for Disease Control and Prevention, Living Future Conference, Smith magazine, and Sustainability Review.
Amy Franceschini (artist, muse)
Amy is an artist and educator who works with notions of community, sustainability and a perceived conflict between humans and nature. Her work manifests "on-" and "off-line" in the form of dynamic websites, installations, open-access laboratories, and educational formats that collectively question or challenge the social, political and economic systems we live in.Amy founded Futurefarmers in 1995, and Free Soil in 2004. Her solo and collaborative work have been included in exhibitions internationally including ZKM, Whitney Museum, NYMOMA and SFMOMA. She is the recipient of the Artadia Award, Cultural Innovation, Eureka Fellowship and SFMOMA SECA. BFA, San Francisco State University; MFA, Stanford University. She is currently a professor of art at University of San Francisco and visiting faculty at CCA.
Taylor Gentry (contributing cinematographer)
Taylor is the resident DP for Wicked Delicate Films, as well as a freelance Cameraman in Massachusetts.
Faith Gilbert (Operations, Cooperative Farming Info Project)
Faith is an east-coaster born in the woods. She spent 5 magic years in the Bay Area before returning east to farm. She is the founder of Letterbox Farm Collective, a brand new collaborative farm project in Hudson, NY. She market gardens, hosts farm dinners, and works to promote cooperation in both farm culture and our culture. This year she launched the Cooperative Farming Info Project, a research effort to make land-sharing and co-managing farmland an accessible model for new farmers.
Jen Griffith (Grange Future)
Jen farms at Queens County Farm seasonally and has the winters off to explore her other loves. These include but are definitely not limited to sailboats, fiddles, textiles, social movements, seeing new corners of the world, and learning new practical skills. Jen feels lucky that she has gotten to work with amazing crews wherever she goes – from farms to boats to offices.
Daniel Grover (Farm Hack)
Daniel grew up in the Virginia and Maryland, attended a Jewish boarding high school in North Carolina, lived in Israel for a year, and began to farm at an educational nonprofit on Martha's Vineyard, Mass. in 2009 and 2010. There he led camp groups and taught kids about farming as he learned about agriculture himself. After a semester each in England and Costa Rica pursuing agriculture and learning about the food system, he returned to school in PA and found himself out at the Dickinson College Farm his first week back. He worked for vegetables for awhile and then became a crew member later that year. After Graduation, he remained at the farm for a six month apprenticeship. The next season he moved north to the finger lakes where he ran a small vegetable CSA and market garden using draft horses and mules at the Northland Sheep Dairy. He's now at Evening Song Farm in Shrewsbury, VT where he is one of the crew of four which grows vegetables for 100 CSA members and several area markets. He has been helping out and hanging around with farmhack for several years and organized a build event for a tractor conversion to a horse powered, ground-driven PTO forecart at the Northland Sheep Dairy in 2013. He's constantly tinkering, fixing, designing, and thinking about how things work.
Laura Hanna (editor)
Laura is a maker of films. Her New York based production company HiddenDriver specializes in feature length and short form films focusing on intellectual, cultural and political issues. She is currently directing the documentary feature Megapolis.
Will Harron (Library Project)
Will grew up in rural Delaware, spending his formative years on a small conventional chicken farm. An interest in ecology at Williams College led him to a farm internship in western North Carolina, which ignited a passion for the growing community of sustainable-ag folks. Will loves the mountains and the ocean, and the people between.
Louella Hill (Almanac, Assistant Editor)
Louella's passion for the land and making food started on a sheep farm in Tuscany where she spent each day milking sheep, haying fields and making Pecorino. A long decade later, she now runs The San Francisco Milk Maid, a mobile cheesemaking business in San Francisco. Her book on home cheesemaking (Kitchen Creamery) will be released in 2015 through Chronicle Books. She blogs, tweets, beeps and claps but prefers the realness of touching milk and paper.
Tianna Kennedy has many interests including farming, writing, organizing, art, radio, cello, the life aquatic and education. She is interested in public spaces and the space of possibility. Her BIG EXCITING NEW PROJECT is Star Route Farm – after all these years, her first farm – a collaboration with Walter and Susan Riesen and the Peachin family located in the Northern Catskills of New York. Outside the farm, she's most interested in projects that create points of access to increasingly privatized resources. Some projects she has managed in the past include: Vermont Sail Freight, SWOON's Swimming Cities of Serenissima, CADE's New Farmer Education Project, Empty Vessel Project (action, art, and design in the Gowanus Canal), and Wave Farm (defining the genre of transmission arts). She holds a Masters in Performance Studies from New York University. You can find her in the fields, on the water or in the desert.
Rosy Keyser (artist)
Rosy paints for the website. Her sunshiney fuzz-headed baby has new teeth.
Patrick Kiley (Publications and research)
Patrick runs Publication Studio in Hudson NY and has worked with Greenhorns in various capacities since 2008. Once the Development Director and later Outreach Coordinator focused on events, he most recently was the Sales Manager for the Vermont Sail Freight Project for which Greenhorns organized key support. Patrick is from Michigan and now lives in Hudson, NY, which is a prime example of an urban area enlivened and enriched by a surrounding agricultural community pulsing with young farmer energy.
Nicole Lavelle is an artist-designer who studies place and relationships via the creation of platforms for collaboration work. She works with non-artists, artists, architects, farmers, and cultural non-profits. Her practice overlaps methodologies from journalism, graphic design, and horticulture, and manifests as print publications, writing, plants, and participatory, temporal experiences. She lives in Oakland, California, and is currently working toward an MFA in Social Practice at the California College of the Arts. Nicole is native to the wet parts of the West. www.nicolelavelle.com
Kristen Loria (Farmhack)
After being born, raised and schooled in Ithaca, NY, Kristen spent a year teaching kids how to grow food in Iowa. She then moved back eastward to Hudson, NY, where she works out of the Greenhorns home office, grows vegetables and bakes delicious delights. Kristen coordinates the Farm Hack project and is co-writing/editing the Affording OURLAND: Farmer's Guide to Finance handbook.
Ginny Maki (Illustrator)
Ginny is an artist and wine lover who has provided illustrations for various Greenhorns projects. She is currently living in Portland, OR, trying her hand at making cheese, soap, baskets, and rugs, while studying to be a bona fide wine specialist. Previously she has volunteered on an urban farm in Columbia, SC, and worked on sheep farms and creameries in Italy and Washington state. Her and her partner plan to move back home to the upper Midwest this spring, and work to have a small farm and crafting studio of their own. And maybe a wine shop… who knows!
Paula Manalo (Wiki manager, Guidebook co-editor, project coordinator, book editor)
Paula is a budding Greenhorn in Northern California. She can often be found chasing sheep and tending greens. Her role with the Greenhorns is ever-shifting, but she is currently managing the "Field Guide for Beginning Farmers" wiki, co-editing the latest version of the Greenhorns guidebook, and is a co-editor of "Greenhorns: 50 Dispatches from the New Farmers' Movement" from Storey Publishing.
Lulu McClellan (West Coast warrior)
Lulu lives in Midcoast Maine with her woodworker partner where she is learning animal husbandry, grazing, and New England homesteading. While a Californian by birth and nature, Maine's hard work ethic, tight-knit community, and many opportunities for bundling up in wool suit her well, for now. She is driven by the confidence that agriculture can be ecologically and culturally regenerative and is looking for land to raise sheep, family and community on. When not farming, she can be found cooking, reading, taking care of herself, playing with wool, or outside.
Elise McMahon (Creative Materials Adventurer and Carpenter)
Elise is an educator, budding farmer and maker of film, art, furniture, and sound. Teaching and organizing with various studios like 3rd Ward, Textile Arts Center, Dekalb Market, and Makeville in Brooklyn, NY, has allowed her to reach out to a large community of learning makers. Teaching adults and children to be self sufficient through making their own things, furniture, clothing, and farming structures, has only excited her to keep learning herself. Helping with Greenhorns, Farmhack, and making infrastructure for farms in NY and RI has been a great experience and she looks forward to relocating to Hudson in June to keep the collaborations going
Derrick Mead (logistical support)
A year has shown that days pruning apple trees in Tivoli, NY are not so different from days matting and hanging photographs in Chelsea. Derrick Mead blogs sporadically at meadorchards.wordpress.com and more regularly arranges produce at farmer's markets ranging from end to end of the Hudson Valley.
Ginny Moore
Ginny is an aspiring farmer, an organizer, and a student of all things agricultural. She has farmed in Pennsylvania, New York, and Wisconsin, and is currently pursuing a master's degree in agroecology and agricultural & applied economics at the University of Wisconsin – Madison. She works on various research and outreach projects, including farmer adoption of conservation practices, mapping of beginning farmer resources, organic vegetable variety trials, farm sustainability assessment, and whole farm profitability tools. She is a board member of FairShare CSA Coalition and a co-founder/organizer for Wisconsin Young Farmers' Coalition. You can find her tabling for Greenhorns at conferences across the Midwest.
James Most (All things fruit and nut)
James farms and tends orchards on Orcas Island, WA. In collaboration with the Greenhorns, James and his partner Sara Joy are growing a nursery crop of grafted chestnut trees to distribute to West Coast farmers, ranchers, and landowners. The goal of this chestnut project is to promote crop diversification and land restoration with tree crops and the cost of trees and establishment support are being subsidized by a generous grant from Nutiva.
Lucas Patzek (Ourland production / events coordination SXSW)
Lucas has recently become the director of the WSU Thurston County Extension office and a Small Farms Educator in Olympia, WA. He will soon be defending his Ph.D. in Crop Science at Washington State University. His doctoral research was conducted in the small grains improvement program of Dr. Stephen Jones, primarily in the Skagit Valley of Western Washington. Additionally, he has also been involved in international wheat development work, both at the National Agronomic Research Institute of Algeria (INRAA) in Algeria and at the International Maize and Wheat Improvement Center (CIMMYT) in Mexico. Lucas' parents emigrated to the U.S. from Poland just prior to his birth, and he is the first member of his family to be born in this country. He was raised in Texas and California, and moved to Washington State with his sweetie four years ago.
Eric Phillips-Horst (contributing cinematographer)
Eric works as a principle cinematographer for the collaborative film collective Meerkat Media. His work has appeared in international film festivals, screened at the IFC and Anthology theaters in New York, and has been broadcast on networks including MTV, the French-German public television channel Arte, and the Manhattan Neighborhood Network. He currently works in camera and production in New York City, and teaches production and digital crafts at DCTV in Manhattan.
Nanette Phillips (writer, illustrator)
A recent transplant to Oakland, CA, Nanette is a writer, artist, and activist interested in how culture influences the topography of individual psycho-spiritual landscapes that in turn inform the creation and enforcement of our shared external reality. You can find her exploring the wild places of the West by foot, boat, bike and telemark ski, playing fiddle in a circle of old bluegrass pickers, and lapping the lunch line at her grandmother's retirement community. Her favorite books have included Chicken Soup for the Pre-teen Soul and, yah I guess that's pretty much it.
Alanna Rose (Illustrator)
Alanna is an artist and mother, raising pastured animals and vegetable crops on the farm she co-owns with her husband and her brother and sister-in-law in upstate New York. She drew the cover for the greenhorns' first New Farmers' Almanac, as well as other illustrations for events they have hosted.
Bonnie Rubrecht (Associate Director of Development)
Bonnie Rubrecht is a fourth-generation Californian now living in rural Groton, MA with her husband and daughter. Her family has been farming and growing berries in Santa Cruz County since the early 1900s. Long a supporter of migrant worker rights and sustainable agriculture, Bonnie assists with grantwriting and development communications for the Greenhorns from the East Coast.
Cara Sipprelle (Our Land)
Cara was born and raised in Los Angeles and then spent 10 years in the South getting her B.S. in environmental science at the University of North Carolina-Chapel Hill and an M.A. in environmental anthropology from the University of Georgia. She never thought much about where food comes from until her grad school advisor lured her out to his farm in Oglethorpe County, Georgia where he changed her life with a garden, a herd of pineywood cattle, and some really old log cabins. After spending grad school hanging out with and learning from indigenous Andean potato farmers, she became a nomadic farmer herself, WWOOFing for a year and a half across Europe and the US. She is thrilled to be settling down in Essex, New York to help tell some super inspiring stories through the Our Land project.
Naomi Starkman (communications consultant)
Naomi is a media specialist on food policy and advocacy issues for Consumers Union and recently served as the Communications & Policy Director for Slow Food Nation. She is an aspiring organic grower who has worked on several organic farms in Central America and apprenticed at Stone Barns Center and the Center for Urban Agriculture at Fairview Gardens. In 2006, she helped manage Helsing Junction Farm, one of the country's largest and oldest organic farms. She has worked as a media relations consultant to The New Yorker, Vanity Fair, Conde Nast Portfolio, GQ and WIRED magazines; as a senior publicist at Newsweek magazine; and as the Director of Communications for the American Foundation for AIDS Research. She holds a double B.A. in International Relations and German from San Francisco State University, and a J.D. from Santa Clara Law School, with certificates in International and Public Interest Law.
Jessica Suda (SoCal Representative, SoCal Grange Future Tour Organizer)
Jessica fell in love with farming when she was 9 at Hawthorne Valley Farm in NY. After graduating from Sarah Lawrence College in Film and Photography, she worked for 10 years in the field of film production in NYC before moving to California to farm on a cliff's edge at the Esalen Institute in Big Sur. She now lives in Los Angeles where she saves seeds in school gardens, installs raised garden beds, transitions lawns to native pollinator-friendly habitats and tends an overgrown plot at Ocean View Farms. She serves as Outreach Chair on the board of the Seed Library of Los Angeles which is building a repository of heirloom, open-pollinated seed, a network of seed saviors. She is mentored by Dr. Vandana Shiva and spent the last 2 years working with the City Council to make LA County a GMO-Free/ Seed Freedom Zone.
Henry Tarmy (Almanac, Assistant Editor)
Henry is a highly amateur ag historian with a passion for farming, wild places and booze. After a few years working in land conservation, he founded Ventura Spirits Company, a distillery seeking to restore the place of spirits in the agricultural landscape. If the current rate of progress is any indicator, his anthology of the WWII era farming journal The Land will probably never be published.
Sarah Tautin (Our Land)
Sarah is a producer with experience across the media spectrum, from public radio to museum design, Emmy-winning TV to documentary filmmaking. More importantly, she likes to eat and eat well, and to help all those who allow her to do so in a healthy, just, and sustainable manner.
Cleo Ulatowski (Grange Future Tour)
Cleo is a desert farmer, seed saver, beaver advocate, and organizer in Northern New Mexico. She loves both coasts, but the wild west suits her best. Owl Peak Farm, a rural agro-ecology education project, is her home base, chosen family, and teacher of all things. At the moment, Cleo is trying to convince anyone and everyone to choose locally adapted, non-GMO seed varieties.
Brooke Werley
Brooke comes from the land of the supermarket outside Philadelphia, but found a heartthrob in the growing life while wwoofing in New Mexico. After some years vagabonding about and farming across the U.S. and Mexico, she decided to dig into the Champlain Valley of Vermont. Here she's managed farms of different scale and will be helping this season to start a new project on a small plot of land in Addison County. She carries with her the stories of those she's met along the way and tries to share as many as she can.
Tusha Yakovleva likes plants and words. She is from Moscow but now calls the Hudson Valley home (and can't imagine a more supportive and collaborative community to be a young farmer). Tusha found farming in a city, first writing about it, then growing vegetables on roofs and in school yards, then helping make fresh food accessible to all. She now lives in a greener land and in the past few seasons, has grown seeds and woodland herbs in the Catskills. She is a life-long forager and is looking forward to offering wild food CSA shares next spring. She writes about seeds and gardening on the Hudson Valley Seed Library blog and dreams of farming in forests.
Hannah Aitken (Office/Ag/Project Manager)
Hannah was born and raised in Hartford Connecticut but has spent the past 7 years exploring Vermont. After receiving her B.A. in Environmental Studies and Community International Development from the University of Vermont, she spent three seasons farming veggies, making pesto, and even started a CSA. This year Hannah is taking on her own heritage breed chicken business, which is right around the corner from the Ferry she will take to hop over lovely Lake Champlain en route to Greenhorns headquarters. In her spare time she can be found assisting graduate students at UVM with their research on climate change and agriculture, illustrating wedding certificates, or getting down with her hip hop crew.
Zoe Ida Bradbury (farmer, freelance writer, Food & Society Policy Fellow, book editor)
Zoe is originally from southern Oregon, where she now runs her own farm and serves as a Food & Society Policy Fellow. Her work in sustainable agriculture has engaged her with numerous non-profits over the years, including Ecotrust, the Agriculture and Land-based Training Association (ALBA), the Center for Urban Education about Sustainable Agriculture (CUESA), and the Institute for Agriculture and Trade Policy. She is a regular contributor to Edible Portland and her work has also appeared in USA Today, Oregon Coast Magazine, The Oregonian, the Draft Horse Journal, In Good Tilth, and Stanford Magazine. She also spent three years co-managing Sauvie Island Organics, a diversified fresh market farm where she oversaw production and apprentice training for a community supported agriculture program. Zoe did her undergraduate work at Stanford University where she studied ecological anthropology with a focus on sustainable agriculture. She recently completed her Masters degree with a focus on rural development, food systems and community change. She is a co-editor of "Greenhorns: 50 Dispatches from the New Farmers' Movement" from Storey Publishing.
Chandler Briggs (farmer, freelance writer, Food and Society Policy fellow, blogger)
Chandler manages a small-scale diverse farm in the Pacific NW with a few other young farmers. He grew up in sunny Southern California & left it all behind for salad greens, homemade bacon & tremendous mountain views. While not farming, he spends his time organizing with the Washington Young Farmers Coalition and Cascade Harvest Coalition, hanging out with his cat & exploring the world of draft horses.
Laura Fong Cline (graphic design)
Laura is a Brooklyn NY based freelance graphic designer. She loves apples, rooftop gardens, food co-ops, bicycles, worm bins, cats, kale and cooking dinner for friends.
Katie Endicott (New Agrarian Network)
Katie grew up in suburban Philadelphia but most recently resides in magical Southern Vermont. She is a farmer in training while completing her Master's Degree in Sustainable Development in Brattleboro, Vermont. She believes in the power of food, farming, and community as a conduit for social change. She's grateful to have had the opportunity to spend time with, listen to, and learn from a diverse collection of new farmers.
Anya Kamenskaya (West Coast events coordinator)
Anya is a farmer and educator who loves bringing together far-flung Greenhorns to celebrate their common challenges and aspirations. Since 2010 she has organized a series of film screenings, educational events and social mixers that have united and galvanized young farmer communities up and down the West Coast of the U.S. Anya has co-managed several farms, taught restoration and wilderness ethics to Northern California youth, and in conjunction with the 18 Reasons gallery, curated a photography exhibit showcasing the work of beginning farmers from across the country. Currently, she works with the artists' collective Future Farmers, and is an active member of the Gill Tract Farmers Collective (aka Occupy the Farm). She received her B.S. in Agroecology from UC Berkeley.
Christopher Lee Kennedy (BFRDP Education Team grant)
Christopher is an artist and researcher that makes projects about people and how they learn. He is currently the Education Curator for Elsewhere, a living museum in Greensboro, North Carolina. It's rumored he was once an environmental engineer for the State of New York before he realized kids are magical. He is also in pursuits of higher learning at the University of North Carolina, is an avid mushroom hunter, and finds time to touch the soil with his bare feet each day.
Jordan Kinley (web film production, DP)
Jordan is a filmmaker from Portland, Oregon. He specializes in a non-traditional music videos and documentaries. In the last year he founded intothewoods.tv, a critically acclaimed music documentary website focusing on the music scene in the pacific northwest. His work has appeared in The Fader, Stereogum, Brooklyn Vegan, XLR8R, among others. He recently worked with Michel Gondry on a narrative feature "The We & The I" based on an after school project in the Bronx. He is an ongoing contributor to the Greenhorns' new webisode project, Our Land. Jordan is inspired by young farmers and the job they have chosen to take on.
Dan Paluska (six million dollar man, robotics engineer, beginning farmer)
Dan is thankful to be stuck on this rock flying through space with 7 billion others! He is happy to know very little about farming and happy to be learning something every day from the many amazing farmers he meets.
Bonnie Powell (food and web consultant)
Bonnie runs The Ethicurean food politics blog, is deputy editor of Edible San Francisco magazine, and founded the Bay Area Meat CSA. She is a farm groupie.
Laura Schoorl (sales director and Etsy)
Laura spends most of her days in Oakland gardening, knitting and shoemaking. At night, she dreams of farming flowers and angora rabbits.