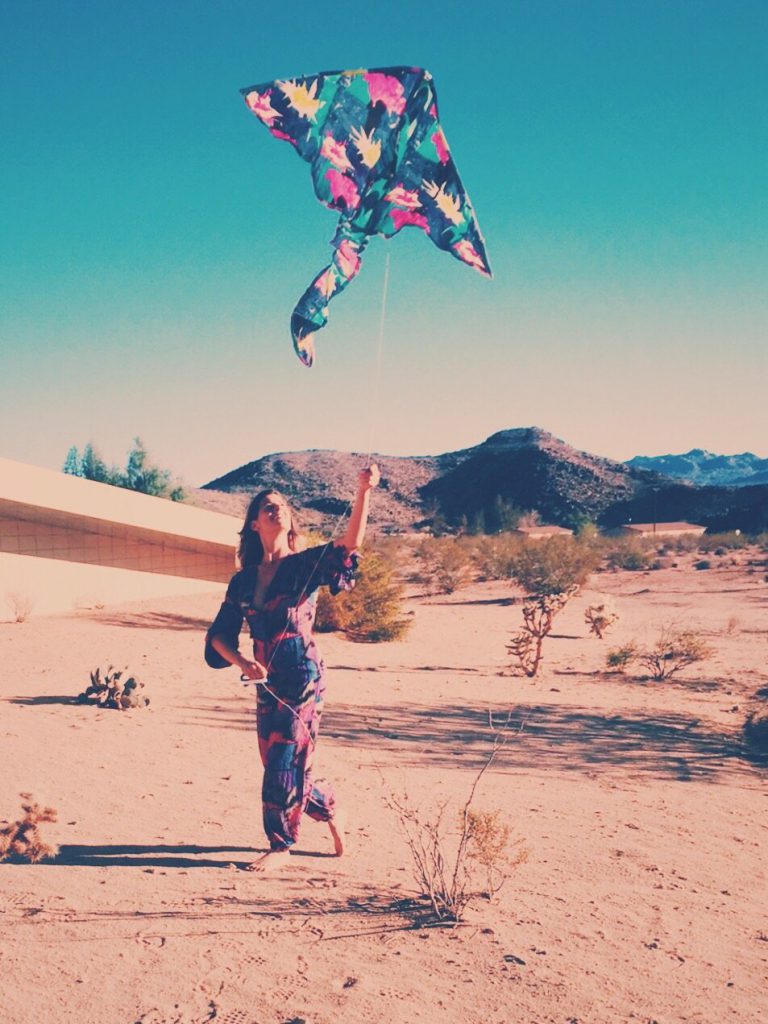 Meg Hiesinger is a kite maker who sees her craft as a way to help deepen people's connections to nature through play. Meg began making kites after pulling a broken factory-made plastic  kite out of a stand of cactus near her home in Laguna Beach, California. It made her wonder how a kite might look if its mass-produced materials were replaced with something more beautiful and environmentally friendly like her own handmade fabrics. She currently sells her kites under the brand "Des Colores," descolores.com. Des Colores, "made of colors," is a phrase that describes Meg's visual response to the earth and its inhabitants.
Hiesinger's love of color and interest in pattern is evident in the fabrics which she designs and hand screen prints. A student of traditional craft techniques as well as a dreamer, her designs are often inspired by animals and plants she sees or imagines. She selects the textiles she works with for performance, bio-degradability, and durability. Even her printing ink can decompose safely in the garden, when mixed from simple materials like milk, mineral pigments, and plant oils. Her preferred material is silk sourced from small workshops in India that specialize in spinning ahimsa or "peace" silk. Ahimsa silk is different from conventionally produced silk because it is made from discarded silk moth cocoons and allows the caterpillar to live its full life cycle.  She would like to find a domestic mill that makes an equally good and sustainable flying fabric, but until then, sharing the stories of her sourcing and process can educate people about the need for ecological revolution in different industries.
Both artist and social scientist, "Dr. Meg" holds a Ph.D. in cultural anthropology and ecology from the Massachusetts Institute of Technology and works as Director of Community Engagement at The Ecology Center, a leading edge ecological design and education center in San Juan Capistrano, California. Her travel and research in different countries and cultures, including Native American communities in the United States, Hawaii, Latin America, and Asia have led her to explore how peoples' cultural views shape their relationships to the earth. Hiesinger explains that many of these cultures share practical traditions of making their daily goods from natural materials, which she believes is key a key part of maintaining a strong connection to the environment.
Hiesinger describes her creative journey as one that has entailed her learning about air and wind, plants and people, along with much more. "Kites are connectors between earth and sky, the seen and the unseen," she says. "They are a reminder of the ageless and essential importance of play, and that we are all children of this world whose job it is to regard ourselves and our surroundings with open hearts, endless wonder, and constant curiosity."
Website: descolores.com
Instagram: @meghiesinger