By Lindsey Rebhan
The agricultural landscape in the U.S. is at another turning point in history. The number of people who lived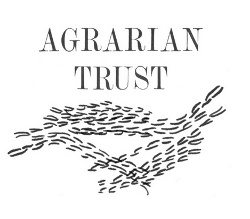 on farms peaked in 1935, 54% of the nation's citizens lived on 6.8 million farms. Today, farmers make up less than 1% of the population. Despite this historical move away from farming, we have seen a revival recently as young people choose to reclaim their agrarian roots.
According to the USDA, since 2002 the percentage of farmers under 35 has doubled (New Ag census figures are expected in February 2014). While the average age of the American farmer is 57, the average farmland owner is over 70. (USDA 2007 Census of Agriculture) As a result of this aging population of owners, an estimated 70% of farmland will change ownership in the next 20 years! Land access remains a key component in helping people get back on farms. We are at a crossroads–a time in history that young people can reclaim a connection to the land.
The new agrarian movement is vibrant with energy, and the latest mover and shaker is Agrarian Trust. Agrarian Trust is a resource that helps sustainable, next-generation farmers access land. The Trust has a mission to highlight projects from across the country, offering diverse tactics for land access, transition, and legal and financial frameworks. The first order of business for Agrarian Trust is to showcase models that demonstrate creative land access strategies. The Trust's website offers a profusion of innovative strategies. Anyone with an interesting land access story is encouraged to share it on the website.
Co-founder and Agrarian Trust Advisory Board Member Severine von Tscharner Fleming explains, "With our next publication, we'll be looking to history to look at models, to contextualize this issue. Four hundred million acres are changing hands and we can't afford it, this is an issue of homeland security."
Continue HERE