tonight!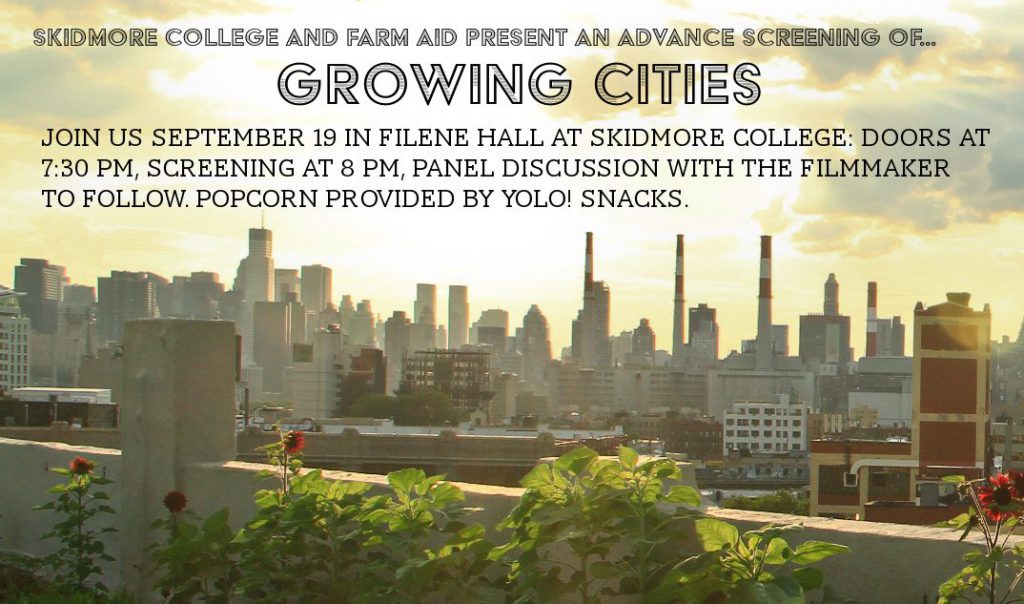 Advance Film Screening: Growing Cities (7:30-10pm)
Filene Hall at Skidmore College  815 North Broadway, Saratoga Springs, NY (This is Skidmore College's official address. Filene Hall is pinpointed in the Google Map link.)
Farm Aid and Skidmore College present Growing Cities, a new documentary about urban farming. Join us for an advanced screening (doors at 7:30pm, film at 8pm), followed by a panel discussion featuring the filmmaker. Popcorn will be provided by Yolo! Snacks.
Free parking is available in Skidmore's Arts Quad Lots A and B. Lot A directions: From Skidmore's main entrance, take a left onto Perimeter Road, then a right into lot A, near the Arthur Zankel Music Center. Lot B directions: From the main entrance, continue straight across the intersection. Lot B will be on your right.
Free, but please register at www.farmaid.org/events
If you can't make it, view the trailer or catch another upcoming screening.