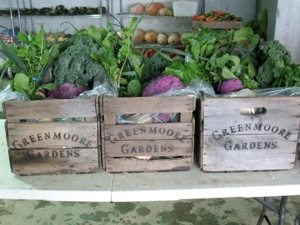 Organic CSA at the Tipping Point Seeks an Adventurous and Experienced Farmer!
Greenmoore Gardens CSA is Now Hiring: Production Manager
About
Greenmoore Gardens is a Certified Organic farm located outside of State College, Pennsylvania. We grow for a CSA with over 150 members, attend local farmer's markets, engage in direct-marketing to local chefs and restaurants, and have an on-site certified kitchen with plans to process and market value-added products. Currently Greenmoore Gardens has 13 acres in production, including high tunnels and greenhouses.
There are many projects in the works, including an on-site kids camp and garden, kitchen events, collaboration with local schools and institutions, and future expansion of production to include acreage under commercial high tunnels to enable year-round production.
Position Overview
We are looking for an experienced resident Production Manager to oversee and implement daily agricultural activities at Greenmoore Gardens. Duties include managing farm crew (including work traders, volunteers, and interns), crop planning, crop planting, crop maintenance, harvest, and post-harvest processing. The Production Manager must be creative and efficient, and able to balance both production and finance schedules and deadlines.  A successful candidate will have experience with medium-to-large scale production, and be able to contribute ideas on how to expand, grow, and diversify our operation.
Responsibilities
• Safely operate and provide basic maintenance of a variety of tractors, implements, and farm vehicles
• Set up and operate irrigation systems
• Determine seeding and transplant needs based on desired yield
• Estimate yield of crops ready for harvest
• Communicate yield & harvest date estimates to Administrators and Owners
• Manage weeds mechanically and by hand
• Manage 4-15 production crewmembers, interns and volunteers
• Maintain planting, production & harvest records in MS Word and/or MS Excel and or GoogleDocs
• Communicate throughout the workday with team via cell phone and text message
• Understand and follow certified organic production guidelines
• Experience working on a diversified CSA farm highly desired
• Must be physically capable of working long days, lifting 40+ lbs, and doing both often
• Must be a proven and confident leader with excellent communication skills and a positive attitude
Expectations
This is a full time permanent position with expectations of 50+hrs/week, with some weekend work during the planting and growing season.  Winter months are less intensive.
Compensation
Salary is competitive and commensurate with experience. Basic on-site housing included. Families welcome.
Profit sharing for the season will be based on mutually agreed upon production and sales goals and maintaining expense budget goals.
To Apply
Email a resume and cover letter to sarah@mcmmanagementgroup.com