Washington State Greenhorns – check out this event…
WSDA Micro Dairy Bus Tour for Farmers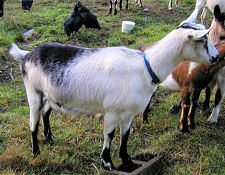 August 31, 2010, Port Townsend, WA
WSDA Small Farm and Direct Marketing Program welcomes farmers interested in beginning or expanding a small dairy enterprise to attend an all day mobile workshop visiting 3 micro dairy farms and hear how they got started and how they have developed viable businesses from their micro dairies.
Beginning in Port Townsend, we will load the bus and take participants to visit 3 diversified micro dairy farms as well as one artisan cheese producing facility:
Whiskey Hill Farm, Wild Harvest Creamery, Mystery Bay Farm, and Mt Townsend Creamery.
These farms have different scales of production but all have WSDA licensed dairy processing facilities.
All of the farms produce goat milk and sell products such as fluid milk, cheese and/or value-added products such as soap or cheese making classes. Each will demonstrate their unique production system.  Producers will show us their facilities while sharing their dairy history. While on the farm, host farmers will share in-depth coverage of the steps it takes to acquire a Food Processor License as well as regulations for direct marketing dairy products. Business and financial planning will also be covered by producers. While on the bus we will discuss additional risk management tools, regulations and enterprise budgets.
Who is this workshop for? Farmers raising dairy animals or farmers who plan to diversify their farming operation with future dairy production.
Walk-on Ferry Option:  We will accommodate participants who want to walk-on the Keystone ferry departing at 8:45 AM and returning from Port Townsend at 5:15 PM, by bus service to and from the Port Townsend ferry terminal. Those that want to walk-on the Edmonds Ferry at 7:10 AM can board the charter bus and ride to Port Townsend, returning to Kingston ferry at 7:00 PM.
Transportation, lunch and snacks will be provided. Pre-Registration is required by August 27, 4:00 PM and is first come, first served. An $18.00 registration fee covers participants' food for the day.
To register go to: http://wsdadairybustour.eventbrite.com/