Coordinated by the Food Justice Project of the Community Alliance for Global Justice
Third Event of 2010! Refugee Farmer Project – Auburn, WA
Saturday, July 31st, 10am-3pm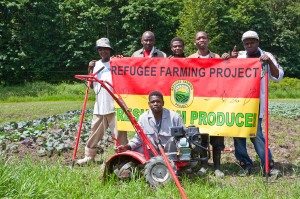 CAGJ's Food Justice Project invites our members and others to learn about and build connections with key players in the local food region through monthly visits to farms, community kitchens, and community gardens! The site visits will include hands-on work that is needed by or is appropriate to the sites, opportunities to debrief and reflect at the end of the site visit, and calls to action! Each visit will allow for carpool options and many will also feature a bike route guided by a CAGJ member. Through these visits, CAGJ hopes to facilitate a place for the voices of our local food producers to be heard and their knowledge and skills to be recognized and celebrated.
The Refugee Farmer Project is in its second year as an initiative of Burst for Prosperity. The purpose is to give local refugees a means to develop their own financial security, build assets, and further connect with their larger community.
This year, Somali-Bantu and Burundi refugee farmers are working on a 10 acre piece of land located in Auburn. They are learning the climate, soil, and markets of their new home and what it means and what it takes to be successful market farmers in the Pacific Northwest. For more information, visit http://burstfarmers.wordpress.com/.
***Please note, space is limited, so RSVP's are required. To sign up, fill out the online form here<https://spreadsheets.google.com/viewform?formkey=dHh6dVFmNlZKWm5TSzhQcmVuQVlKcXc6MQ>.
If you have any questions, please email Molly at
**mollyjade@gmail.com*<fjp@seattleglobaljustice.org>
*. *We will send you directions and carpooling details upon receiving your RSVP, as well as information about what to wear and bring. All activities will be appropriate for children and we can work out disability accommodations if needed.