Real Food Youth Training in Bethel, Alaska July 26-30.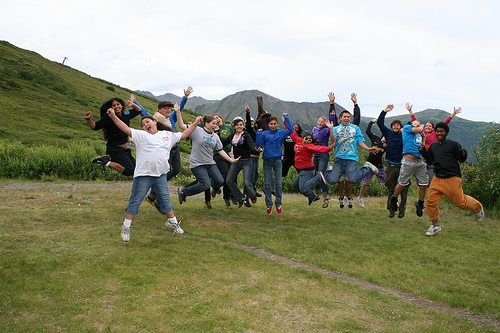 Teens from villages and communities including Pilot Station, Togiak, Kotlik, Kasigluk, Quinhagak, Dillingham, and Palmer will be exploring issues around industrial/processed foods and how that is impacting our health, culture, and environment; as well as solutions such as eating Native Foods, practicing subsistence, fishing, and local organic gardening and farming.
In addition to education, the training is all about empowerment–and is molded around a creative "Use Your Voice" piece, where we are bringing 3 Alaskan Instructors to lead Spoken Word, Memoir, and Muraling tracks. The teens will work in their tracks the last 2 1/2 days and perform for the Bethel community on July 30th. Afterward, their art and writing pieces will be distributed widely.We cannot make this training a reality without your help. The cost of travel in rural Alaska is prohibitively expensive, and many teens need scholarships in addition to their local fundraising efforts. Every dollar helps!!
Victor T. Onalik Jr. is a 17 year old Inupiat Alaska Native.  He says, "I am from a small community called Noatak. It is 50 miles above the Arctic Circle. My favorite foods are Caribou Soup, Whale meat, and frozen fish w/seal oil. I am excited to attend the the Summer Training because I want to use my voice and speak up for my community." Victor has been chosen as a Peer Leader at the training, giving him the opportunity to step up and help lead sessions, as well as be a youth mentor. However Victor will not be able to make this opportunity a reality without your help. A ticket from Noatak to Bethel is $1,111. He is fundraising locally, setting up presentations for all of the local businesses and his Native Corporation, but he needs your help now. Invest in Victor's future and donate Alaska Airline miles to his travel: http://ayea.org/WordPress/training-events/summer/
Arlo Beans is a 16 year old Yup'ik Eskimo, from Pilot Station, Alaska. He says, "My favorite foods are moose soup, and BBQ moose ribs. I have been living off of subsistence all my life.  I want to participate in the AYEA training because it can help me to help my peers choose better foods, perhaps the native foods, I want to learn how native food is healthier than non-native foods. I hope to learn how to make new native foods and become a leader in the village, and learn about environmental issues. I want to make my community a better place to live at and more exciting then it is now." A ticket from Pilot Station to Bethel is $348. Invest in Arlo and donate to his Summer Training Fund at http://ayea.org/WordPress/training-events/summer/
Please spread widely! Help these Alaskan teens join the good food movement, and show them that we believe in them.
Sincerely,
Shannon Kuhn
Program Coordinator
Alaska Youth for Environmental Action
National Wildlife Federation
907. 339. 3910 |    shannon@ayea.org
See what young people are doing for a more sustainable Alaska
www.ayea.org |  www.facebook.com/ayea.org |  www.myspace.com/ayea4life