Toluma Farms, Inc. is looking for a goat herd manager– how can you resist this face?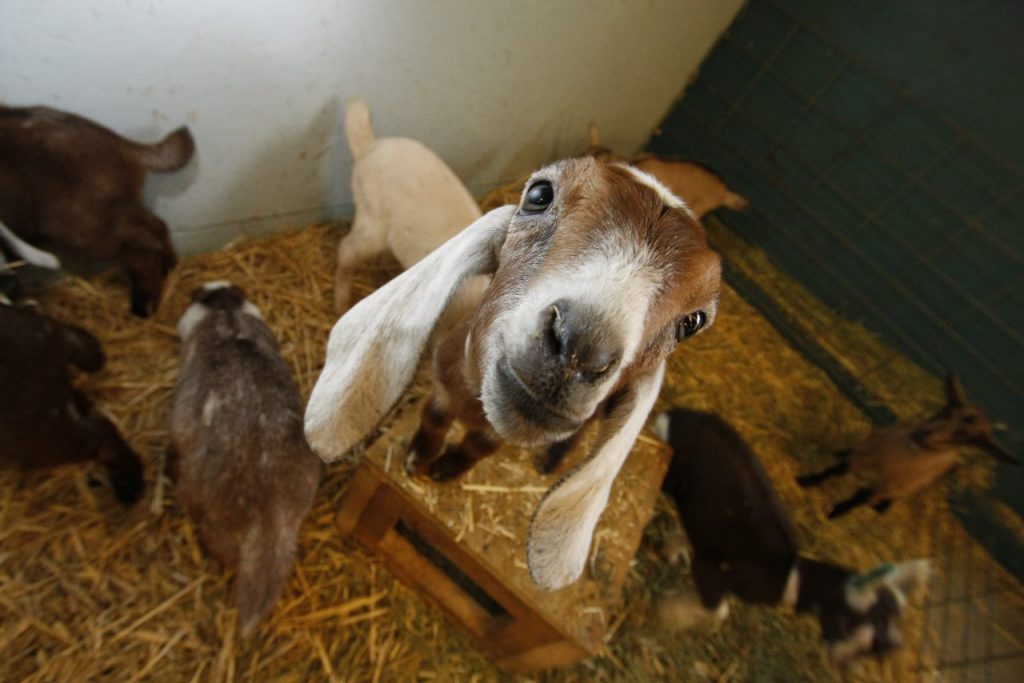 Read on for full Job Description:
Herd Health and Reproduction: (50 percent of time)
· Developing, scheduling and performing vaccinations, de-worming, delousing, hoof care and dairy clipping routine.
· Develop and update feed and supplement use for maximum health and productivity.
· Developing disease prevention/reduction strategies. Treat and care for sick goats.
· Heat detection. Plan breeding for continued genetic herd improvement, physically placing does designated bucks and designated times and tracking breedings.
· Manage an efficient kidding season.   Assist with difficult births.
· Sourcing and acquiring new, high quality stock (such as bucks) if and when necessary.
· Perform euthanasia when needed.
· Manage an effective pasture rotation system.
· Maintain Animal Welfare Approved and Certified Humane Standards and record keeping.
Management of the Dairy Herd: (40 percent of time)
Supervising employees in all phases of the dairy.
· Feeding
· Milking (Herd Manager has a 2 milking shifts)
· Upkeep of facilities and equipment (milking parlor, main barn, office, grounds, staff kitchen, tractors and farm vehicles).
· Fill in for sick and vacationing employees when needed.
General Office Work and Community Involvement (10 percent of time)
· Monthly inventories
· Order supplies, spare parts, feed and straw
· Give tours when needed
· Maintain goat health records
· Answer phone calls in a timely fashion
· Meet with dairy owners 1x a week, attend monthly staff meeting and send 1x a week email update to dairy owners.
· Interviewing (with dairy owner) and train new employees, interns and apprentices.
Additional Scope of Work:
Make decisions pertaining to day-to day operation, such as when an animal needs to be treated or bred, call veterinarians or service personnel.  Decide whether a tank of milk must be dumped, when and what feed to order, what repairs and upkeep should be performed.  Solve problems concerned with herd health, failure of milking equipment or outside equipment, nutrition and pasture management.
Make suggestions to dairy owners for budget, decide when to cull goats and can make purchases for items costing up to $250.
Maintain Organic certification standards for pasture and work towards organic certification for goats.
Minimum Qualifications (Education/Experience):
· BS in Agriculture related field (strongly desired)
· Goat dairy management (2-5 years)
· Supervising experience (1 year)
Knowledge, Skills and Abilities Required:
· Knowledgeable of goat health issues
· Knowledgeable of goat nutrition
· Ability to motivate employees and keep up positive moral
· Ability to work with all types of people
· Ability to think in terms of cost reduction and work within a budget
· Ability to communicate with a broad spectrum of individuals
· Ability to speak Spanish is desired
· Knowledge of milking procedures