In collaboration with key partners across the Chesapeake area, Engaged Community Offshoots, Inc. is organizing and hosting Sowing Seeds Here and Now!: A Chesapeake Area Urban Farming Summit on Friday, June 18th, 2010 at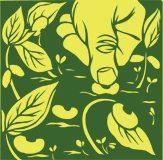 the Henry A. Wallace Beltsville Agricultural Research Center. Our keynote speaker and inspiration is Will Allen, CEO of Growing Power in Milwaukee, WI. Will Allen is a pioneering urban farmer whose organization Growing Power does exemplary work and who was named a MacArthur "Genius" Fellow in 2008.  Dr. Molly Jahn, Deputy Under Secretary for Research, Education, and Economics at the USDA is confirmed to attend the event.  The goal of our one-day hands-on learning and strategizing event is to catalyze and support urban farming throughout our metropolitan area – Washington, DC, Prince George's and other local counties, and Baltimore –which we call the Chesapeake area.
Here's the link to buy tickets: http://sowingseedsnow.eventbrite.com/
We even have some scholarships available. People can micro-sponsor an urban farmer by clicking the "Donate" button on the website.