we wanted to share this nice little note from Shawn, a new young farmer out in in southern california.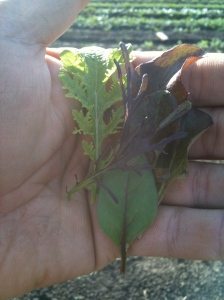 I have been waiting for the day that I could send you a link to my own farm's website. Well, the day is here, and perhaps you all would like to check it out. I just turned 26 yesterday, and farm a leased acre in Goleta (about 3 miles from Fairview Gardens) where I grow a huge diversity of veggies- focusing on salad mix and European and Asian gourmet veggies. I got the land in August, and farmed it part time while I was the produce manager at the Isla Vista Food Co-op. I left my job at the Co-op on Jan. 1, and am now farming full time. I am currently selling just to the Co-op, and will hopefully be selling at a couple of farmers markets by spring. I also have plans for a small farm stand as my farm is on a well trafficked road. I'm currently looking to expand my operation pretty dramatically, and hope to be leasing a beautiful 10 acre parcel of class 1 soil by summer.
Starting my own business has been an interesting and amazing experience, and I'm excited to explore the possibilities of how small scale commerce can be carried out by a young anarchist farmer.
Thanks, and I hope you enjoy!
Shawn