presented by our friends at Just Food.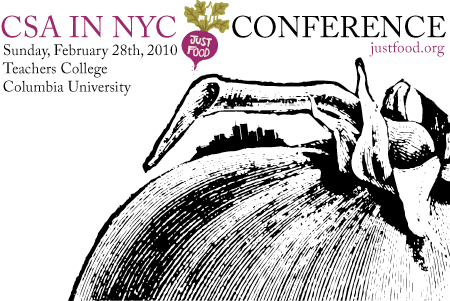 The Just Food Community Supported Agriculture (CSA) in NYC Conference is an opportunity for CSA members from around the city and farmers to come together for a day of workshops and discussion. In addition to the workshops, there will be a panel discussion with CSA farmers when attendees will have the opportunity to ask questions to learn more about what it means to be a CSA farmer.
The Conference will be followed by a CSA EXPO where members, farmers and other NYC organizations will share information and expertise on growing your CSA and enjoy socializing over complimentary wine, beer and cheese.
Sunday, February 28, 2010
8:30 am until 6:00 pm
Teachers College, Columbia University (MAP)
Click here to register