here's a note we received from some aspiring agrarians who are also making some pretty rad tshirts.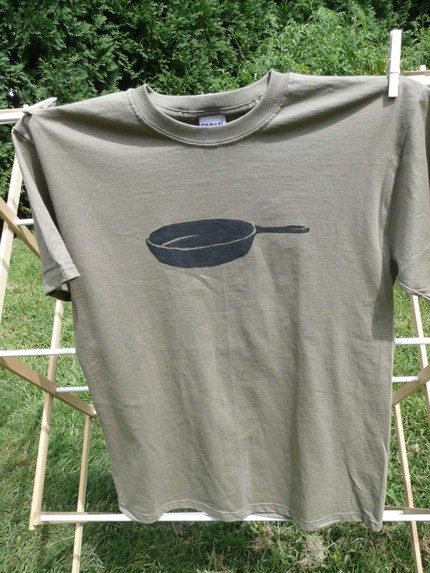 Dear Greenhorns Community-
I recently wrote to Anne to say how much my husband Brent and I have enjoyed the Greenhorns blog. It's great to know that there are so many young and aspiring farmers out there. We are definitely still on the aspiring end of the spectrum, living in the city in western Massachusetts. But we dream of being farmers someday soon. Last January we decided we would start trying to live more sustainably even where we are. So we converted half our tiny backyard to garden and started learning old-fashioned skills like canning, making jam, cheesemaking, and baking our own bread. We have been documenting our journey for our blog Rural Legend on the GRIT Magazine website. http://www.grit.com/blogs/blog.aspx?blogid=3443 It's been a lot of fun, but only makes us want to move to a place where we can actually have some space to grow a real garden and have some chickens.
While we're dreaming of moving to the country, I have started an etsy shop called unhipster, which sells hand-stenciled t-shirts that feature my artwork of old-fashioned gear like cast-iron skillets, canning jars, and tractors. The name "unhipster" is a phrase we coined to describe ourselves after a trip to NYC where we realized how unhip we are. Since then, we've begun to embrace our life as unhipsters and it's been surprisingly liberating. For one thing, if you're worried about being hip, it's never really cool to like something too much. But if you are an unhipster, you can feel free to revel in all kinds of old-fashioned, unhip things like cooking biscuits in your grandma's cast-iron skillet, making blueberry jam from berries you foraged in the woods, and growing your own food. So for all you unhipsters out there, here's a link to my shop  http://www.etsy.com/shop/unhipster.
Thanks again! Can't wait to hear more about your farms.
LeAnna Alderman Sterste