famous for Soil Buildling, and  for Apple Butter.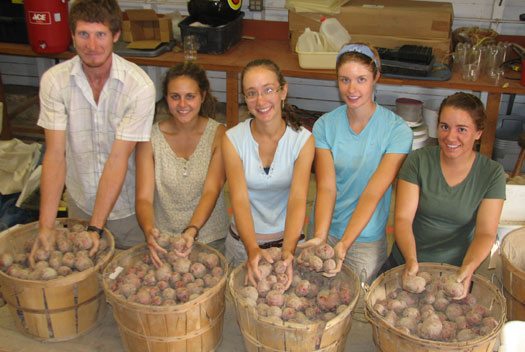 get a load of this!
Rodale Institute Newsletter Update – Jan. 21, 2010
Three weeks into 2010, writers at the Rodale Institute are celebrating Pennsylvania's break-through Path of Organic program and rounding up the ways that organic farming can achieve even higher levels of carbon sequestration in living biological crop, livestock and wooded areas.
Our agronomists are summarizing what they learned from last year's many trials in grain and horticultural crops as they carefully lay out new statistical field queries for this growing season.
Three stories, served up fresh today:
Pennsylvania seeks ecological, environmental benefits through organic conversion
The first class of farmers are engaged in the state's new Path to Organic program. State funds will help cover costs related to their three-year organic conversion as well as their first year of certified organic marketing.

Cropping super-sequestration options pack big carbon wallop
Research with degraded soils, enhanced livestock grazing and tree-crop combinations show greater potential for nature's regenerative potential.

Infestation hits first-year multi-variant tomato trial
Heirloom variety outlasts hybrids in test of cover crops, beneficial soil fungi, organic fertility and weed suppression in horticultural production trial.

Check www.rodaleinstitute.org regularly for organic news and research updates.
You can sign up here for a free e-newsletter issued whenever we update our major stories.
http://www.rodaleinstitute.org/contact_form
Follow us on Twitter @rodaleinstitute
http://twitter.com/rodaleinstitute