a beautiful flock from Phillies Bridge Farm Project in New Paltz.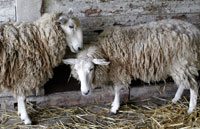 After working with our small sheep flock for a few years, we have decided let go of them and perhaps re-think our livestock situation. We have a few sheep that we would like to sell as they are of good breeding stock or have favorable wool qualities and some sheep that we would be OK with donating as long as they went to good homes. Most of the sheep are pure border leichester and a couple are border leichester mixed with merino- good sized, dual purpose sheep.. The ages range from six years to yearlings. The reason we are letting then go is that as a flock they have not been economically viable, but that does not mean there are not some individuals who would contribute greatly to a productive flock.
Some information on the flock (all ewes):
Ruby: 5 or 6 yrs old, good breeder, white border leichester, for sale
Camilla: 5 or 6 yrs, friendly, has lambed this year, grey border leichester willing to donate to a good home
Peaches: 4 yrs old, fiesty, good breeder but has rejected lambs, black border leichester, willing to donate to a good home
Pearl: 3 yrs old, white BL and merino mix showing more merino, has not lambed but is Ruby's daughter, for sale
Petunia: 2 yrs: black BL and merino mix showing more BL, was not in with the ram last year, beautiful wool, for sale
We bought hay for the winter at $5 or $6 a square bale and would sell this hay at-cost to whoever gets sheep. It's excellent quality timothy and has been kept in our barn loft.
Our idea situation would be to sell the flock to a single farm at a low price, and sell this farmer the hay for the winter at cost. We are hoping to move the flock by the end of January (ASAP).
Please contact me if you are interested or if you have any questions.
—
Anne Eschenroeder
Farm Manager
Phillies Bridge Farm Project
45 Phillies Bridge Road
New Paltz, NY 12561
845.256.9108
anne@philliesbridge.org