seriously, yes its a carbon crime, but if you have never had a kishu before, you owe your family a christmas treat that cannot be beat. kishu!
2010 Seedless Kishu Mandarin Harvest
Accepting Pre-Orders Now
Churchill Orchards in the Ojai Valley
Dec 9 2009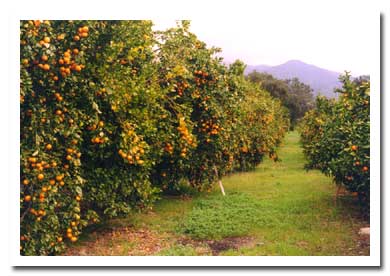 ~~~~~~~~~~~~~~~~~~~~~~~~~~~~~~~~~~~~~~~~~~~~~~~~
Greetings from Churchill-Brenneis Orchard in the Ojai Valley!
The Seedless Kishu Mandarins look gorgeous this year (and we finally got a little rain!), but our fruit's ripening a bit later. We expect to start shipping in mid-January. Sorry we can't make it for the holidays, but we want to wait til the little mandarins are ripe and ready.
We have opened our website for pre-orders. It's helpful for us to receive your orders in advance — we pre-book them and then as soon as the fruit gets ripe, we'll email your invoice. We will then ship upon payment.
Here's a link to our Kishu order form. If you'd like, you can place your pre-order now:
http://formdesk.com/kishu/order2email
We'll send out another notice when the fruit is ready and you're welcome to wait until then to order. There's plenty of fruit to go around so we don't think you'll miss out by waiting.
If you'd like to send multiple orders as gifts, please send us by separate email (to tangerinesales@earthlink.net) a list of recipients with street addresses and phone numbers. We'll treat it the same as if you ordered on the website: pre-book the order, invoice you when the fruit is ready to ship, and ship upon payment.
As in previous years, we ship in 10 lb cartons. The cost this year is still $45 for the carton, plus FedEx and handling. We ship FedEx Ground to the western states, and Fedex 3-day express to points further east. (If you want it shipped more rapidly than that, please let us know.)
For those of you coming back for repeat orders, we thank you. Prospective first-time customers, we hope you enjoy the fruit and look forward to serving you.
We are very grateful to you for your continued appreciation and support of our fruit.
Jim Churchill
Lisa Brenneis
Churchill Orchard in the Ojai Valley