the tough get weird.
Greenhorns: if you haven't already stopped, here's yet another reason to stop the shopping:
Reverend Billy's "Blessed are the Jobless! Blessed are the Broke!" Christmas Tour
With the Life After Shopping Gospel Choir!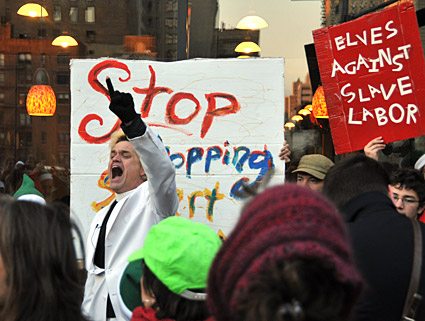 Buy Nothing!
We start on Buy Nothing Day, Friday Nov 27, 5 AM – trying to convert the Consumers at the front-door of Macy's. Then off to the Valley Stream Wal-Mart to remember Jdimytai Damour. The on-the-road part of the tour starts with the Rev in Minneapolis and St. Paul, then Savitri joining him in Los Angeles andPasadena. They return to the 40 voice gospel singathon at the Christmas Revival at the Brooklyn Lyceum on Saturday December 12th. Then on the17th, 18th and 19th, the full choir buses up to Albany, Troy and east toGreenfield, Massachusetts.
Details for all events at http://www.revbilly.com/events
And now a holiday message from Reverend Billy Talen:
"Blessed are the meek for they shall inherit. Blessed are the jobless who force us to change the economy. Blessed are the homeless who unlock empty buildings. Blessed are the evicted who resist with their children watching! Blessed are the broke who re-introduce the what-can-I-do-for-no-money? Blessed are the re-cycled gifts and home-made art and swap-o-ramas and farmer's markets. Blessed is the local Christmas. Local-ujah!
On this tour there is no room in the inn. We are not paid much – but our hosts have a lot to share. We're forced out into public space, nuzzled by cows and sheep with angels over-head! Out into the commons, out into the new funky Garden of Eden. We're starting over!"
Our performances in concert halls, as well as our "Retail Interventions" inside super malls and chains stores – are directed by Savitri D. Our choir-master is James Solomon Benn.
Questions? Want to help promote a show? Are you in the death grip of a shopping-urge and need an exorcism right now??? Email michael@revbilly.com…