Hello dedicated supporters of neophyte farmers:
As most of you are probably already aware, the NOFA winter conference will be held Jan 22-24, 2010 in Saratoga Springs. While the NOFA conferences always provide bountiful learning for new farmers, this year there will be a particular focus on this audience, with a full-day Beginning Farmer track on Friday and a new event on Thurs. Jan 21, 7-11pm: a Young Farmer Mixer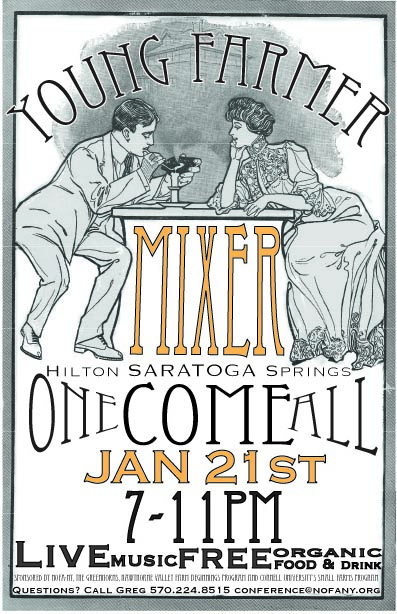 This is a celebratory networking evening with food, drinks, live music, and fun activities, sponsored by the Greenhorns, NOFA, the Cornell Small Farms Program, and Hawthorne Valley's Farm Beginnings Program.
We're looking for tradeshow vendors for this special event! This is an opportunity for you to reach young farmers with news of your offerings. We'd like to invite each of you to set up your program's display and join us for the fun. Even if you don't have a display, please come to connect with energized young farmers! The mixer is free, the beer will be cold, and the music will be hoppin'. Oh yes, and the food will be good.
So please RSVP to ERICA FRENAY by Nov. 20 if you will be there, and especially if you will be able to set up a display about your organization or services for Beginning Farmers. We can also arrange to have resource tables if you can't bring a display but have some brochures or other info to distribute.
**Email Erica Frenay: ejf5@cornell.edu