our friends down in North Carolina are still at it.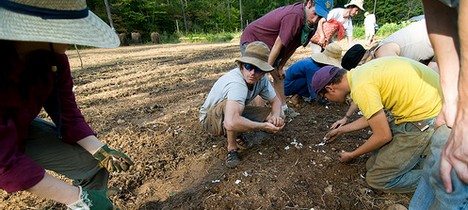 Crop Mob One Year On: NC Land "Raids" Continue
via Treehugger
News of a large group of landless young people invading a farm tends to bring images of revolution. And NC-based Crop Mob does indeed have revolution in mind, but the group's methods are more about giving than taking. As I noted in my original post on Crop Mob, the organization is part of a wider resurgence of young people taking up farming. It was borne out of a discussion group on the problems facing young farmers, but rather than sit around talking about challenges, the group decided it was better off getting things done. So, armed with hoes, shovels, wheelbarrows, and bucket-loads of good will, the Mob has been descending on local farms to offer a helping hand. And after a full year of Mobbing, the idea is spreading.
continue reading here