If you're a faithful blog reader, you may remember Ibti, the plucky young woman who'd decided to bike across the country visiting local, sustainable farms.  Having heard she'd made it as far as Niman Ranche, we thought we'd check in with her to see how it's all going.  Here's a note from the biking champion, and a photo her at Coyote Run Farm in Lacona, IA If you'd like to know more, check out her blog – A Bikeable Feast.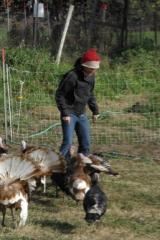 Hello Greenhorns! Greetings from chilly Minneapolis, where Ollie and I are celebrating 6 months on the road. It's been an amazing journey thus far, filled with beautiful farms, inspiring people, stunning vistas, and, of course, lots of great local food. The weather and winds have been less than cooperative, but the kindness of my fellow Americans along the way who have taught me, fed me, shared a coffee and exchange of ideas, let me into their lives and their kitchens, hugged me, sometimes even put me up or given me a lift for a few miles or tried to slip me a $20 bill when I wasn't looking, continues to keep me going.
Lots of people have been asking me recently if I have a favorite farm that I've visited. (The "how much does your gear weigh??" finally getting edged out of being the most frequently asked question spot is kind of nice. However….) People, I can't even pick a favorite state — I've been through 15 so far — or even favorite part of the country. So my favorite place would be "where I am."
One of the things that I hoped traveling by bicycle would achieve, aside from creating a much smaller carbon footprint, was that I would be able to see more of our country, and do it at a pace that allowed me to slow down and enjoy the ride. It's working. Each day I am taken by surprise by some detail I hadn't noticed before: the delicate blossom on a squash, the wriggling nose of a piglet, the impossibly deep blushing tones of a sunset after a rainstorm. I also discovered which barnyard animals prefer particular clothing items of mine for the purpose of nibbling: goats like my pants, pigs prefer my boots, and turkeys have an odd predilection for my shoelaces.
As cold weather approaches, I am heading westward to explore the coast with Ollie, ever my faithful ride. If you know of a farm or sustainable food-related organization that could use a little help for a few days (in the form of my willing and able self), let me know. We may be coming to a town near you!
Be well,
:)Ibti