Love is Love Farm, in Douglasville, GA, could use some help!
Dear Friends and Co-Producers.  As many of you know, we at Love is Love Farm have been hit by record floods which turned the Aneewakee Creek bordering the western side of the farm, into a raging river that tore through 2/3 of the fields, downing huge trees, ruining most of our fall and winter crops, destroying equipment and washing away our topsoil.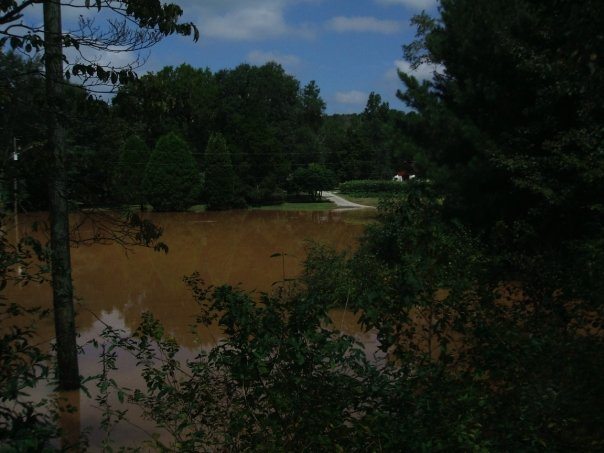 So many have expressed a desire to help, and we are humbled and grateful to see this vibrant good food community in action.  In many ways we feel like we've experienced 2 floods, one of destruction, and one of support.  It is moving and beautiful to be in the midst of the latter.
It took us a while to figure out what we needed and how to organize it, but we have the beginnings of a plan and I'd like to share with you some ways you can be a part of the restoration of the farm.
Workdays:
On Monday, October 5th from 10 to 3, we'd like to have about 20 volunteers to help with clean up.  Tasks include: retrieving branches, pruning false indigo, clean up of the store-room, removing bean trellises, digging soil for testing.  Our friend Mike Akin will prepare a pot of Brunswick Stew for lunch.  You bring the beer or beverage.
On Tuesday, October 6th from 10 to 3, we'd like to do more of the same, plus, possibly dig our sweet potatoes. (we're still hoping!)
Skilled Laborers:
If you have plumbing and/or carpentry skills we could use your help building a new chicken coop, and repairing our irrigation spigots where possible.  We'd prefer if you could work on October 5th or 6th, but can be flexible.

All volunteers, please rsvp to let us know you're coming, by sending an e-mail to loveislovefarm@gmail.com.  If you're coming to work, please bring gloves, water proof shoes, digging tools, and pruners if you have them.  Please leave children (under 12) and dogs at home.  The farm is a semi-dangerous place right now.

Equipment Needs:
If you know someone with a bobcat, a bulldozer or a mulcher (large industrial size), please send along our info.  We are in need of all of these things.
Supplies:
We need a LOT of organic matter to add to the soil.  For the foreseeable future, if you have mulch, leaves, hay, or grass clippings that are free from chemicals, please consider sharing them with us.  We need all we can get.
Other Ways to Help:
Ours is not the only farm feeling the impact of this "weather event."  We know that the Bray Family Farm, Cane Creek Farm, Fairywood Thicket, Hope's Garden and Split Cedar Farm suffered losses and damage as well, and suspect that there are others.  Please reach out to those farmers if you know them and offer what you can.  Niel Taylor of Split Cedar needs some help this week trying to save some transplants.  You can write him at taylorganic@bellsouth.net
Slow Food Atlanta has set up a fund to help Georgia's flooded sustainable farmers.  All contributions to this fund will be tax deductible.  For more information, visit www.slowfoodatlanta.org
If you are a farmer who has been impacted, or you know one who has, please contact Jonathan Tescher at Georgia Organics (jonathon@georgiaorganics.org)
.  GO is conducting a survey of farmers and compiling data to share with the Department of Ag.

Storms like these are a good reminder that we always need to support are local farmers.  Buy directly from farmers at farmer's markets as often as you can. It's a risky job, sometimes and farmers need you behind them.

Fundraisers:
Here's what we know so far.  We believe there are more to come.  Please support in the ways that you can.

October 4th –  Field of Greens will be donating the proceeds to Slow Food Atlanta's Flooded Farms Relief Fund.   www.fieldofgreensfestival.com

October 11th – Woodfire Grill is having a 4 course dinner with wine pairings to benefit Love is Love and the Georgia Flooded Farms Relief Fund. www.woodfiregrill.com

October 17th – The Peachtree Road Farmers Market is selling Jim N' Nicks BBQ plates from 10 to 1.  All proceeds will benefit the Peachtree Road Farmers Fund.  www.peachtreeroadfarmersmarket.com

Many other friends, restaurants and businesses have offered to help raise funds for the Georgia Flooded Farms Relief Fund.  We'll keep you apprised of the details.

Again, please know how completely awestruck we are by both mother nature, and the human agency of our good food friends.

In solidarity and love,
Judith (& Joe)
Love is Love Farm