greenhorns ally Mark Andrew Gravel of Agrarian Art Lab is behind this new mag.
Not Your Average Food Porn: Food + Sex Previews Nationwide
New collage art food magazine Food + Sex = Us (Food + Sex) previews nationwide late this summer with bicoastal dates scheduled for the Eat Real Festival at Jack London Square in Oakland, CA on August 28-30th and New Amsterdam Market at the South Street Seaport in New York City on September 13th.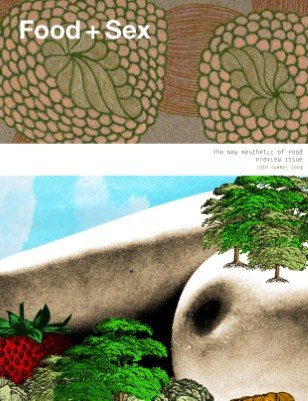 Food + Sex is THE NEW AESTHETIC OF FOOD
Food + Sex is a collage art food magazine exploring how desire shapes the food environment. It includes an assortment of uncommon art, essays and excerpts by thinkers, makers and doers from the food underground and beyond. 
Food + Sex is A COMBINED EFFORT
Drawing on the spirit of the collaborative, unstructured underground dining community, Food + Sex brings together a diversity of hyper-talented visual linguists, wayfaring wordsmiths, agricultural artists and DIY foodmakers to blur the lines between art, activism and journalism in an ad-free environment.
Food + Sex is SLOWMADE
Schedule free and published more or less seasonally, Food + Sex is offered only when the best quality can be delivered. New issue details and assorted updates are distributed via Facebook and email.
Food + Sex is PARTICIPANT PUBLISHED
Ignoring mainstream distribution, Food + Sex practices independent, participatory publishing; printing each issue on demand. Each order prints and ships upon request with a copy arriving via post a few days later, thus eliminating unnecessary printing and waste. To purchase the preview issue and learn more about the upcoming fall tour visit www.foodandsex.us.
About the Publisher
Food + Sex is published by food activist/artist Mark Andrew Gravel. He currently works on a variety of visual art and underground dining projects that expand conversations about the food environment.
Want more info?
Website
Facebook
Fall Tour
*Purchase it here