we got to meet & share goat sandwiches with Annie & Ben of Rooftop Farms last saturday at the Goat Spit, truly delightful folks.  if you're urban and needing to get your hands in the dirt, give them a shout.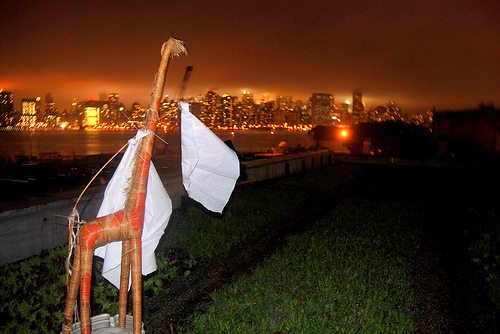 Dear urban farmers, friends and volunteers,
It's been another great week. Thanks to all who came Sunday, and to those who braved the night rainstorm for Solstice Yoga. (Have no fear-the farm has been handled the deluge just fine!) We had a great time at the Greenhorns Goat Roast on Saturday: you should follow their adventures. And then on Tuesday the press gave us a few words!
This weekend's events:
* Saturday, June 27th: Our first market hours! We'll be open with produce for sale on Saturday from 10am-2pm at 44 Eagle St in Greenpoint. A few experienced DIY farmers may even pick their own. We have a range of spring produce available, picked that morning, including greens, kale, chard, peas, herbs, and plants. The mustard greens are still awesome and spicy, and peas are fattening up. Bring your own bags if you can remember!
* Sunday, June 28th: the Unfancy Food Show. The Farm will be closed on Sunday, so visit Ben at the East River Bar instead, from 12-6pm. He'll be showcasing our veggies along with a great batch of Brooklyn's vendors with fun sandwiches, pickles, kimchi, sweet treats, and drinks! $5 admission.
And to all those volunteer requests.. .
Thank you for your support. It's inspiring to see how many people want to farm with us. We encourage you to shop local, adopt some plants from our nursery, build up your garden, and continue to check in as we post news on Our website.

Annie Novak & Ben Flanner
www.rooftopfarms.org