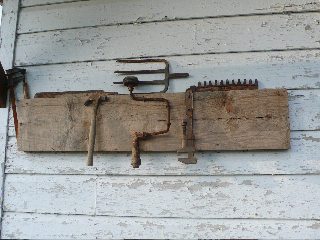 We are a group of food justice and urban agriculture activists working to ensure that people of all walks of life have access to fresh, nutritious, and environmentally-sound food. as part of this mission, we run a CSA (community supported agriculture group) in the Lower East Side, and are pursuing several urban ag initiatives including rooftop and backyard gardens, and ultimately an upstate CNG farm. we believe in reconnecting people with their food sources, empowering them through their eating decisions and ability to grow food, and improving the health of all people of NYC. we support local and sustainable agriculture both within and outside of the city.
As a feminist and anarchist project, we are resolutely opposed to any form of racism, sexism, classism, homophobia, and hold ourselves in opposition to capitalism and all other forms of oppression. we believe in an egalitarian and ecological society and culture, and the actualization of that through our works and through solidarity with other radical organizations and activists around the world.
We believe that the CSA model can help us build stronger communities here in NYC and in Pennsylvania, where our farm is located. located exactly 100 miles from bluestockings bookstore, we have established a working relationship with the ant hill farm, run by a sister and two brothers who grew up in the local town of honesdale, PA. honesdale, like many places in NYC, is suffering from a post-industrial collapse; the ant hill farm is a community-oriented project that can help revitalize the community in honesdale, as well as to help empower peoples in the LES to make good financial choices and healthy eating decisions.
The CSA model differs from the traditional farmer's market model in that members of the CSA develop a direct relationship with their farmer. the naturally-grown food is delivered weekly to a distribution point; the members know where their food comes from, who is growing it, and become directly involved in a community in the LES by seeing new and old friends at the distribution point. to learn more about the CSA model, check out just food's website here: http://justfood.org/csa/
Our CSA will be doing distribution every saturday from 11am – 2pm on the Allen St. Mall in front of Bluestockings Bookstore, 172 Allen St. the cost for a full share (to feed a family of four) is $430; a half share is $250 (to feed two); quarter shares are also available. the growing season will be from june 6 until october 31st, which comes to $19/wk for a full share, and $10/wk for a half share; there will be 7-12 vegetables in each share, which means that these veggies will be cheaper than wholesale!
Please visit our website at http://www.nycfoodproject.org for membership applications are more information on how to get involved!
In addition to regular distribution, we will be holding cooking workshops, food politics discussions, community beautification projects, and field trips to the ant hill farm for both kids and adults. we hope you join us in building a better and more beautiful city and world!
info@nycfoodproject.org
Blogging @ http://foodstockings.wordpress.com/