Paisley Farm CSA still has some shares available. IN NYC!
You thought that all the CSAs were full…but Mike and Jan are my landlords, and very gracious lords too. This is their first year doing CSA after 20 years growing for local markets and fancy restaurants in the city. – Severine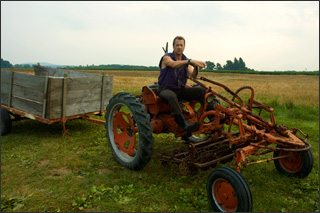 Mike is generous with his time and humor – and machinery. and greenhouse space. and water pressure.
Details on the Paisley Farm CSA are on their website, and here:
We plant with the chef in mind. We love to cook ourselves, and we love to share what we grow. We've been keeping the best chefs in Manhattan happy for two decades, and now we can do the same for you, with our new CSA!
We still have some spots available, and deadlines have been extended!
We have 4 pick-up sites in NEW YORK CITY:
Download the NYC Sign-up Form (PDF) to join.
All sites will pick up on Wednesdays, see times below.
First pick-up is June 17th.
d.b.a. Williamsburg
113 N. 7th Street, between Berry and Wythe
pick-up hours WEDNESDAY 5:00 – 7:00pm
Metropolitan Exchange Building
33 Flatbush Avenue in Brooklyn (near BAM, Ft. Greene, and Fulton Mall)
pick-up hours WEDNESDAY afternoon/evening
Jimmy's No. 43
43 E. 7th St., between 2nd and 3rd Avenue in the East Village, Manhattan
pick-up hours WEDNESDAY 4:30 – 6:30pm
Central Park East School II
19 East 103rd Street, near 5th Ave., Manhattan
pick-up hours WEDNESDAY 2 – 6
If you have any questions about our CSA in NYC, please email Sara Grady.
We also have a pick-up site on our farm in RED HOOK / TIVOLI, NY:
Our farm is on Route 9 at the county line.
Pick-ups will be Fridays from 3:00 – 6:30pm, starting June 19th.
Download the sign-up formPDF) for our local CSA to join.
Severine