The Soil Association, supported by the Daylesford Foundation, are launching 300 Organic Farm School courses over the next two years.
The Organic Farm School offers hands-on courses in growing your own food, rearing animals, cooking and rural crafts. Participants will learn practical skills direct from organic farmers, growers and producers with personal experience. Courses include bee-keeping, chicken keeping, vegetable growing, cider making, bread baking, willow weaving, hedge laying and many others. [3]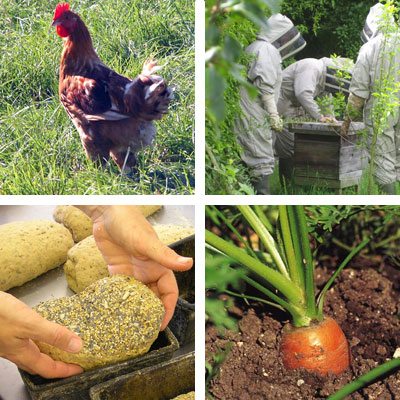 The Soil Association hopes to reach over 3,000 individuals – from young families and gardening newbies, to allotmenteers and wannabe smallholders – encouraging a reconnection of urban and rural. The courses are not only a fun day out on an organic farm, they offer a chance to rediscover the precious knowledge of our grandparents.
Whether you want to skill up and make that step towards making your life more sustainable, learn how to live closer to the land, or get inspired and try something out as a possible career option, the Organic Farm School has the right course for you.
For more information please contact the Soil Association press office:
Clio Turton, senior press officer, 0117 914 2448 / 07795 562 556
Sam Allen, press and communications officer, 0117 314 5170 / 07747 021 117
press@soilassociation.org
The Daylesford Foundation, set up by Carole Bamford, concentrates its activities to promote sustainable, organic farming. The Foundation's core belief is that everything starts with the soil itself. The Foundation aims to encourage awareness and action to preserve the quality of our soil for future generations.
http://www.daylesfordorganic.com
The courses are based around growing skills, kitchen skills, smallholding skills and a range of seasonal & specialist skills throughout the year. Seasonal and specialist courses include:
* wild food foraging
* hedge laying
* cider making
* bee keeping
* cheese making
* preserving
* butchery and game preparation
* seasonal cookery demos
* willow weaving
* dry stone walling