Two upcoming workshops with the Pennsylvania Association for Sustainable Agriculture will be particularly useful for Greenhorns….
Successfully Integrating Interns & Apprentices into Your Farm
Cambria County Extension Office – Ebensburg, Cambria County
Wednesday, April 29; 5:00-8:00pm
$15 PASA Members, $25 all others. Lunch will be provided.
Farm interns and apprentices can tip the balance toward a successful farm business, and at the same time offer aspiring farmers hands-on work experience forming the foundation for their own farming success. But there is much to learn in working with and supervising people in the unique circumstances of a farm endeavor.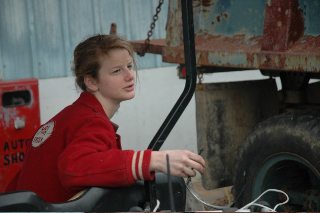 If you've considered creating an internship or apprenticeship as a part of your farm business, come to benefit from years of experience and different perspectives to start off on the right foot. Speakers will share information on housing, salary/stipends, evaluating performance, fair labor expectations, terms of agreement, motivating interns, being patient, providing a sense of community, and how to end things if they aren't working out.
More information here
– – –
Farming Profitably: Business Planning & Management, Marketing and Record-Keeping Intensive Learning Program
Presented by the University of Scranton Small Business Development Center (SBDC), with support from the Pennsylvania Department of Agriculture and the Risk Management Agency.
Saturday, May 2nd Penn State Campus: ASI Building Room 109, State College – CENTRE Co.
9:00am – 4:00pm (includes light breakfast and lunch)
Cost: $50 members, $75 non-members, class limited to 25 registrants.
We're bringing the experts to you in three accessible regions of Pennsylvania! The experts at the University of Scranton Small Business Development Center work with local farmers in seven rural designated counties, providing instruction on how to construct a functional business plan, as well as the proper records to provide measurements and track trends for the benefit of the farm business. Participants will be guided through creating a business plan, developing a marketing strategy, and maintaining finances using both traditional bookkeeping methods and the latest computer software.
This daylong seminar will include:
* Defining a "good set" of farm business records
* Developing a farm management/business plan
* Choosing your form of organization (LLC, Inc., etc.)
* Understanding farm accounting (cash flow & income statements)
* Pricing for profit
* Using software and database management on your farm
* Finding funding: developing a financial package
* Click here to download a short PowerPoint presentation outlining the agenda for the day.
Extensive examples will be given for a diversity of farm businesses. Participants will receive a free trial software package from the Center for Farm Financial management, University of Minnesota Extension Service and have the opportunity to practice using the software in the class. Attendees will also be given access to an on-line farm business-planning tool, and follow-up assistance by the Scranton SBDC consultants who serve as Agricultural Specialists on staff. During lunch, hear a special presentation on changes in Farm Bill that effect insurance options and other ways to manage risk on your farm. Brought to you with support from Pennsylvania Department of Agriculture Risk Management Agency.
This is an excellent chance to brush up on your record keeping skills or to develop the plan you wish you had to most effectively run your farm business and make it more profitable. A portion of the instruction will include hands-on practice with easy to use software but computer skills are not necessary and all lessons will be applicable to traditional methods (not requiring a home computer).
Participants will receive a certificate upon completion of this intensive.
More information here