Radio is a wonderful medium, and Majora Carter is using it beautifully. Listen to her at thepromisedland.org, Greenhorns, particularly her Earth Day Special. Inspirational, uplifting, important.
Majora Carter is founder of Sustainable South Bronx (SSBx), a nonprofit community organization established in 2001 to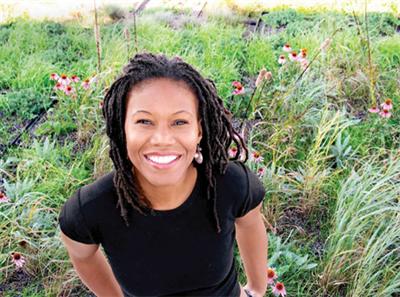 advance the environmental and economic rebirth of her hometown. With Van Jones, she co-founded Green For All to promote a national green-collar job agenda. The Majora Carter Group, her consulting firm, builds relationships between organizations and across sectors to remediate environmental pollution. Carter, a sought-after speaker, was named one of Essence magazine's "25 most influential African-Americans" and one of Newsweek's "25 to Watch." She is co-host of The Green on the Sundance Channel and a board member of the Wilderness Society. In 2005, she was awarded the MacArthur "genius" grant.
Here's the latest from her:
First, tune into a special public radio program: The Promised Land: Earth Day Special. We'll explore an urban forest in L.A., tour an abandoned riverfront in Northern Ireland, take you to my neighborhood in the South Bronx, and talk activism with Robert Redford. All to see how communities are navigating the crossroads of environmental, social, and economic issues.
You can listen to The Promised Land: Earth Day Special and previous shows at thepromisedland.org. Our last special: The Promised Land, Different Takes on the Legacy of Martin Luther King, aired on over 200 stations across the country. Look for more specials from The Promised Land around the Fourth of July, and Labor Day!
Listen, and please tell your friends too. Subscribe to our podcast. If you have any comments please share them at ask@promisedland.org.
And if that wasn't enough, I'll be on the Martha Stewart Show in the morning of Earth Day, April 22, and my Eco-Heroes series on The Green will start airing on the Sundance Channel. Thanks so much for your support. Now, get outside!
Majora Carter