The Carolina Farm Stewardship Association recently held a webinar on Building New Farm Programs. You can now access this great farm incubator resource online at http://www.carolinafarmstewards.org/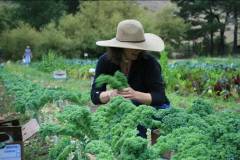 Hello to all,
I hope everyone is having a great year so far. I am happy to send out this information that the webinar on Building New farm Programs has been posted and is ready for viewing.
After several technical challenges and re-recordings, we are able to post this webinar at the CFSA website. We are still trying to improve the video quality of this webinar as we were challenged trying to get the best format for internet viewing. So be patient with the video quality and we will place any newer versions on the website as soon as it comes available. Due to the many requests for linking we decided to go ahead and post this while we continue to get the better quality on at a later date.
You can access this webinar at the following link.