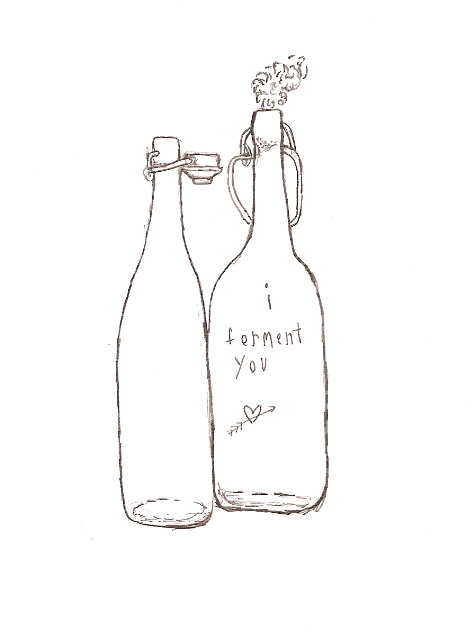 Here's a link to a petition you can send to your congressional representatives asking them to put a halt to subsidies for biofuels: http://www.change.org/foodfirst/actions#letter_form
If you're looking for some inspiration, read on for Severine's letter.  And just for fun, here's another of Brooke Budner's drawings.
Dear Representative,
I write you as a young farmer, as an American citizen, and as a fierce patriot of this Land.
I voted for Change. I want Change. I'm willing to work for Change.
Biofuels are not Change.
We have tried biofuels. The result has been rising hunger both here in the U.S. and in developing nations around the world. Now it's time to change the biofuels standards signed into law by President Bush in December 2007 and institute a moratorium on biofuel production and eliminate subsidies for that production.
Please pass and sign new legislation that calls a halt to government subsidies of a program that not only costs the American taxpayers, but also creates more hunger due to rising food prices.
The current system of commodities programs and incentives to production create a toxic ecology- not only for the soil, water and air of rural communities, but also for new entrants into agriculture.
If our goal is a sustainable, just, healthy agricultural sector- we must grow food, we must grow farmers, we must build soil health and community health.
Massive GMO monocultures of corn, grown only to be burned- these are an affront to the culture of agiculture, and represent a hormone-shot to the agribusiness interests that currently dominate the USDA.
American agriculture should feed Americans- not only today's American appetites, but tomorrow's as well.
I urge you to divert the millions of dollars of ethanol subsidies into programs which increase the biological integrity of American agriculture, investing in the Land for the next generation.
Here are some more specific suggestions
http://www.serveyourcountryfood.net/static/manifesto
We have inherited the follies and debts of yesterday. Let us thoughtfully exert ourselves in this time of extreme transition–creating policies, provisions and regional infratructure which will serve us in the future.
Support young farmers!
Thank you.
Sincerely,
Severine von Tscharner Fleming
director, The Greenhorns