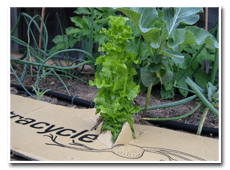 We Greenhorns love farming, and food, and bikes.  We like biking from farm to farm, and we think bikes, like farming, are the future.  So, naturally, we love this latest beautiful piece of machinery from Xtracycle: The Radish.
And in their November Newsletter: they also give some advice on how to use the box your new Radish comes in to mulch your radishes, and other veggies:
How to Grow a Radish
We're aware that one of the resources we're using more and more of as a company in the distribution of our products is cardboard. Radish, our new complete, comes in a box that's nearly 90 square feet in size once unfolded. We love these boxes – they protect Radish incredibly well, they are renewable (though certainly at a cost to our forests) and thanks to our graphics team, they're damn stylish. All that said, the question remains – what do you do with this resource once it's done acting as the skin between your stuff and UPS? One option that happens to be seasonally appropriate, is sheet mulching. If you want the the nitty gritty on this permaculture technique, read more on our blog, but the essence of sheet mulching is this: by laying cardboard down in your garden, especially in areas where you're trying to restrict the growth of weeds, the time it takes for the cardboard to decompose is often enough to prevent weed seeds from germinating early in the rainy season. Cardboard (a favorite food of 9 out of 10 earthworms) acts as a great natural mulch. Poke holes in the cardboard where you want your radishes (or other veggies) to sprout.
More on The Radish @ Hello Radish